FTC Disclaimer: We do receive financial compensation for some of the products we recommend and personally sell.
Microfase, a Potent Anti-Yeast Microbial
Microfase was developed after two years of research and pain staking testing of the proprietary herbal ingredients to be a stand alone yeast anti-microbial, or to be used in conjunction with Biofase and Profase.

The ingredients are sourced from all over the world and tested in our lab for activity and purity. Only the best antimicrobials were chosen for the final formula. These compounds have medically proven activity against candida and many strains of pathogenic bacteria and parasites.
After you review the ingredients below and the references to all the published medical studies, I think you will agree that Microfase would be a great addition to any yeast cleansing program.

The Herbs in Microfase
Gymnema Sylvestre has been added to Microfase and has been typically used for the treatment of obesity and diabetes. As a matter of fact, a study in 2007 which was published in the Journal of Biochem Nutrition, found the acids in the herb prevent the binding of carbohydrates to the receptors in the intestine and hence, the carbs are passed in the stool. Without the absorption of carbs into the blood stream, there is no blood sugar spike and no build up of fat cells from the storage of the excess sugar.1

It also helps to prevent cavities and has been used to treat asthma, eye problems, inflammation and does possess antimicrobial properties.

Most importantly, this study done in 2013, found Gymnema Sylvestra inhibited candida albicans spores from shifting to the pathogenic hyphael form. Candida yeast is much easier to kill in the spore form verses the hyphael pathogenic form.
It also showed this same ability on the fungi Aspergillus fumigatus. It was found to be non toxic to human and mamalian cells.2
Want to know what else gymnema sylvestre does, click here.

Microfase contains Undecyclenic acid, which is a monounsaturated fatty acid that comes from the  distillation of castor beans, it is also found in human sweat in small amounts.

A study published in Antimicrob Agents Chemother., in Oct of 2000 evaluated the effects of Undecyclenic acid on candida cells growing on dentures. The study found that Undecyclenic acid inhibited the spores from shifting to hyphael form.3

A 2016 study, published in Int J Clin Pharmacol Ther, undecylenic acid inhibited biofilm formation of C. albicans in addition to restricting the spores from shifting to pathogenic hyphael form. Scanning under an electron microscope revealed a crimpled cell surface and an atrophic, dead, appearance. The hydrolytic enzymes and formation related genes, like HWP1, were significantly reduced.4

It has been extensively used against fungal skin infections, such as athlete's foot, ringworm, and tinea.
There are more studies on Undecyclenic acid on this webpage if you care to read them.

Berberine Sulfate typically comes from oregon grape root or the barberry plant. It has been typically used for eczema, gall bladder complaints, hepatitis b, gastritis and diarrhea. I added it to Microfase because it repeatedly tests well for Fluconazole resistant yeasts, which is a problem I see way to often.

In May of 2016, published in Antimicrob Agents Chemother, the the potential antifungal effect of berberine against fluconazole-resistant Candida and Cryptococcus neoformans strains, as well as against the biofilm form of Candida spp was studied. Analysis showed berberine damaged the plasma and mitochondrial membranes resulting in dna damage and cell death on both Candida and Cryptococcus neoformans. It also showed a significant reduction in biofilm formation activity.5

Front Microbiol published in Sept of 2016, that berberine was tested in combination with Fluconazole on candida tropicalis. It was determined that berberine significantly reduced the ability of c tropicalis to resist the fluconazole.6

Berberine was also found to be an effective agent against pathogenic e coli as well as candida, which proves it is antimicrobial.7

Berberine is also one of the compounds that is always tested on the stool tests I recommend. It usually rates high for effectiveness against both yeast and many strains of pathogenic bacteria. I felt this was a must have herb to add to Microfase.

I could go on and on here about the effectiveness of berberine on candida and pathogenic bacteria. But I won't, if you care to read more studies here you go.
Microfase contains Oregano Extract from wild crafted oregano from the Mediterranean. Historical internal uses for oregano include colds, flu, and stomach upset. Externally it has been used for bronchitis, asthma, arthritis, muscular pain and lice.

In May of 2000 it was determined that a 6 week daily course of oregano could kill infections caused by the enteric parasites Blastocystis hominis, Entamoeba hartmanni and Endolimax nana.8 Symptoms associated with the infection are diarrhea, constipation, nausea, abdominal cramps, bloating, excessive gas, and anal itching.9 According to studies from Denmark, most cases of the infection appear to become diagnosed as irritable bowel syndrome.10 It has been estimated that 25% of the population in the United States is infected with this parasite. I don't doubt the 25% estimate, because I see Blastocystis hominis infections on stool test results all the time.

A published study in 2010 tested oregano oil on C. albicans, C. parapsilosis, C. krusei, C. lusitaniae, and C. dubliniensis. The oregano analysis showed 4-terpineol (47.95%), carvacrol (9.42%), thymol (8.42%) and ?-terpineol (7.57%). The results suggested that a well blended oregano formula, not heavily weighted to carvacrol like most formulas, may represent an alternative treatment for candidiasis.11

A 2016 study using oregano extract against 30 different vaginal isolated strains of C. albicans in comparison to the drugs clotrimazole, fluconazole and itraconazole; showed that oregano was a more effective agent than clotrimazole. The oil affected the cell wall and membranes of the yeasts.12

One very important 2016 study showed oregano was not only more effective than the other herbs tested against candida albicans, but also effective against Staphylococcus aureus and Pseudomonas aeruginosa.13 I see Pseudomonas aeruginosa occasionally on stool test results and do have personal experience with this biofilm building bacteria. If you have it, you need to get it under control asap,  if it infects the lungs or the urinary tract and kidneys it can be fatal.
More published oregano studies can be found on this webpage.

There are more studies concerning oregano oil but they are also included with cinnamon bark extract, which is also in Microfase. Cinnamon has been typically used for digestive problems, constipation, rheumatic pain, and menstrual problems.

The anti-fungal activity of essential oils obtained from oregano, cinnamon, Mexican oregano, thyme, sage, rosemary, basil, and ginger were assessed against Candida glabrata. In addition, 30 fluconazole-susceptible C. glabrata isolates were also tested. Thyme, sage, rosemary, basil and ginger essential oils showed no antifungal activity. Both the oregano and Mexican oregano essential oils showed high levels of anti-fungal activity against the fluconazole-susceptible C. glabrata group, whereas the cinnamon essential oil showed the best anti-fungal activity against fluconazole-resistant C. glabrata.14

A recent 2017 study found that cinnamon extract was active against fourteen gram-positive and gram-negative bacteria strains tested, including some antibiotic-resistant strains. It along with oregano extract were also effective against the H1N1 and HSV1 viruses and six different candida strains. It was suggested that cinnamon extract would possibly work well for pneumonia causing S. pneumoniae as well.15

Just like bacterial sepsis, candida in the blood stream is most often a death sentence if not treated promptly with high powered prescription drugs. In 2016, a study was done to determine if cinnamon oil would be effective for these types of infections caused by C. albicans, C. parapsilosis, and C. tropicalis. Cinnamon was found to be effective against 50% of the various candida substrains, and 55% effective against c krusei.16

Grapefruit Seed Extract, GSE, has a long history as an anti-fungal and microbiocidal. In 2001 it was determined that GSE had anti-fungal activity on over 200 candida albicans strains and 4 candida spp strains isolated from patients with candidiasis symptoms. The study also showed it had low activity against dermatophytes and moulds.17

In 2004 it was determined that GSE had antimicrobial activity against 20 bacterial and 10 yeast strains with the strongest effects against Salmonella enteritidis.18

In 2012 GSE showed potent anti-fungal activity against S. cerevisiae, which I occasionally see on stool test results. It induced cell death by destroying mitochondrial 60 S ribosomal protein, L14-A, and prevented the conversion of pantothenic acid to coenzyme A (CoA).19
More published medical studies for gse can be reviewed on this webpage.

According to the Encyclopedia of Herbs, Neem leaf has been used to reduce inflammation, clearing toxins, and lowering fevers. It destroys a wide range of parasitic organisms and is insecticidal. It has been used internally for malaria, tuberculosis, arthritis, rheumatism, and intestinal worms. Externally it works well for ringworm, eczema, lice, fungal infections, and muscle and joint pain.

In 2015 Neem leaf was tested against the pathogenic bacteria Streptococcus mutans, Enterococcus faecalis, Staphylococcus aureus and Candida albicans and their biofilms. It was discovered that Neem leaf had considerable antimicrobial activity against all these pathogens.20

Another study published in 2017 tested on 216 different samples of Candida albicans and Streptococcus mutans showed that Neem leaf had considerable antimicrobial effects against both pathogens.21

I could go on and on here with the studies but at this point, I think you have to agree that Microfase is a potent anti-fungal and antimicrobial product. But if not, you can always go over to Pubmed and read some more on any of these ingredients.

How to Use Microfase
If taking Microfase by itself, I would take to 2 to 4 capsules 30 minutes before meals 2 to 3 times daily. It would probably be best to start with 2 capsules twice a day, breakfast and dinner and after a week add 2 caps at lunch. After another week, add one more capsule with each meal, the following week go to 4 capsules with each meal.

If taking with Biofase, Profase and/or Floraphage, take these 1 hour or more before breakfast and 30 minutes before bedtime. Take Microfase 30 minutes after the Biofase, Profase, Floraphage combination. Doing it this way takes advantage of the killing effects of the herbs and the shape shifting reducing effects of the Undecyclenic acid and Gymnema Sylvestra.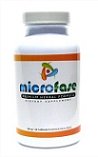 Customer Rating

Written by Dan and edited for accuracy by Dr. Taylor
Herbal Yeast Infection Remedies Home
 
If you ever have any questions about Microfase or any other questions, please fill out the form on the contact page.
References:

1. J Clin Biochem Nutr. 2007 Sep; 41(2): 77–81. Published online 2007 Aug 29. doi:  10.3164/jcbn.2007010

2. PLoS One. 2013; 8(9): e74189. Published online 2013 Sep 11. doi:  10.1371/journal.pone.0074189
PMCID: PMC3770570 Gymnemic Acids Inhibit Hyphal Growth and Virulence in Candida albicans

3. Antimicrob Agents Chemother. 2000 Oct; 44(10): 2873–2875. PMCID: PMC90168 Undecylenic Acid Inhibits Morphogenesis of Candida albicans

4. Int J Clin Pharmacol Ther. 2016 May;54(5):343-53. doi: 10.5414/CP202460. Antifungal effects of undecylenic acid on the biofilm formation of Candida albicans.

5. Antimicrob Agents Chemother. 2016 May 23;60(6):3551-7. doi: 10.1128/AAC.01846-15. Print 2016 Jun.
Berberine Antifungal Activity in Fluconazole-Resistant Pathogenic Yeasts: Action Mechanism Evaluated by Flow Cytometry and Biofilm Growth Inhibition in Candida spp.

6. Front Microbiol. 2016 Sep 23;7:1516. eCollection 2016. Antiproliferation of Berberine in Combination with Fluconazole from the Perspectives of Reactive Oxygen Species, Ergosterol and Drug Efflux in a Fluconazole-Resistant Candida tropicalis Isolate.

7. Microb Pathog. 2017 Jan;102:12-20. doi: 10.1016/j.micpath.2016.11.011. Epub 2016 Nov 23. Breaking the resistance of Escherichia coli: Antimicrobial activity of Berberis lycium Royle.

8. Inhibition of enteric parasites by emulsified oil of oregano in vivo. Force M et al. Phytother Res. (2000)

9. "Division of Parasitic Diseases - Blastocystis hominis Infection Fact Sheet". Cdc.gov. 2008-06-06. Retrieved 2010-04-04.

10. Stensvold CR, Lewis HC, Hammerum AM, et al. (November 2009). "Blastocystis: unravelling potential risk factors and clinical significance of a common but neglected parasite". Epidemiol. Infect. 137 (11): 1655–63. PMID 19393117. doi:10.1017/S0950268809002672.

11. Braz J Microbiol. 2010 Jan;41(1):116-23. doi: 10.1590/S1517-838220100001000018. Epub 2010 Mar 1.
In vitro activity of origanum vulgare essential oil against candida species.

12. J Appl Microbiol. 2016 Dec;121(6):1530-1545. doi: 10.1111/jam.13282. Epub 2016 Oct 24.
Sensitivity of Candida albicans to essential oils: are they an alternative to antifungal agents?

13. J Infect Dev Ctries. 2016 May 31;10(5):494-505. doi: 10.3855/jidc.7610. Antimicrobial and anti-inflammatory potential therapy for opportunistic microorganisms.

14. J Mycol Med. 2015 Sep;25(3):213-7. doi: 10.1016/j.mycmed.2015.06.003. Epub 2015 Aug 14.
In vitro activity of essential oils extracted from condiments against fluconazole-resistant and -sensitive Candida glabrata.

15. Microbiologyopen. 2017 Mar 14. doi: 10.1002/mbo3.459. [Epub ahead of print] Antibacterial, antifungal, and antiviral effects of three essential oil blends.

16. J Clin Diagn Res. 2016 Aug;10(8):DC09-11. doi: 10.7860/JCDR/2016/19958.8339. Epub 2016 Aug 1.
Antifungal Activity of Cinnamon Oil and Olive Oil against Candida Spp. Isolated from Blood Stream Infections.

17. Wiad Parazytol. 2001;47(4):845-9. [Effects of 33% grapefruit extract on the growth of the yeast--like fungi, dermatopytes and moulds].

18. Acta Pharm. 2004 Sep;54(3):243-50. Antimicrobial activity of grapefruit seed and pulp ethanolic extract.

19. PLoS One. 2012;7(3):e32943. doi: 10.1371/journal.pone.0032943. Epub 2012 Mar 5.
A mitochondria-dependent pathway mediates the apoptosis of GSE-induced yeast.

20. J Conserv Dent. 2015 Nov-Dec;18(6):461-6. doi: 10.4103/0972-0707.168810.
Antibacterial efficacy of Azadirachta indica, Mimusops elengi and 2% CHX on multispecies dentinal biofilm.

21. J Clin Diagn Res. 2017 May;11(5):ZC97-ZC101. doi: 10.7860/JCDR/2017/23784.9950. Epub 2017 May 1.
Efficacy of Neem Extract and Three Antimicrobial Agents Incorporated into Tissue Conditioner in Inhibiting the Growth of C. Albicans and S. Mutans.

Home About Us Privacy Policy Copyright Policy Disclosure Policy Doctors Contact Us

Disclaimer: These statements have not been evaluated by the Food and Drug Administration. The products and information contained herein are not intended to diagnose, treat, cure, or prevent any diseases or medical problems. It is not intended to replace your doctor's recommendations.

Copyright © 2003 - 2019. All Rights Reserved under USC Title 17.
Do not copy content from the page or this website without my expressed written consent. To do so is Plagiarism, Not Fair Use, is illegal, and a violation of the The Digital Millennium Copyright Act of 1998.