FTC Disclaimer: We do receive financial compensation for some of the products we recommend and personally sell, including Amazon on qualified products.
About Dr. Atmika Paudel
B. Pharm., MS Pharm. Biol., PhD

Dr. Atmika Paudel received her Bachelors in Pharmacy in 2005 from Tribhuvan University in Nepal, which is the 10th largest University in the world. During this period, as a research activity, she studied the pharmacological and biological activities of a medicinal plant of Nepal, Rhododendron campanulatum, which triggered her interest in exploring the scientific meanings behind the traditional uses of herbal medicines.

From April of 2005 to February of 2007 she was a Quality Control Officer for Chemidrug Industries Ltd in Nepal. Chemidrug Industries Ltd was established in 1970 with a goal to assure easy accessibility to the latest life-saving drugs at affordable prices to the people of the country.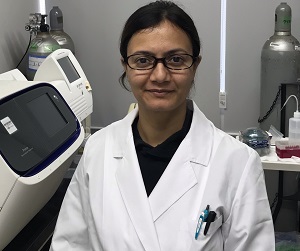 From April of 2007 to March of 2008 Dr. Paudel was a Research Student at the University of Tokyo.

She completed her Masters in Pharmaceutical Biology in 2010 and went on to complete her PhD in Pharmaceutical Biology from The University of Tokyo in 2013.

Since graduating with her PhD, Dr. Paudel has been a Research Fellow at the University of Tokyo and is currently a Research Scientist at Teikyo University in Japan.

Dr. Atmika Paudel has many published research papers in the use of antimicrobial agents to discover novel approaches for the treatment of infectious diseases, both pharmaceutical and natural.

She has hands-on experience in microbiology, biochemistry, biotechnology, molecular biology and pharmacology with outstanding publication records in high impact journals.

Her research interest includes the discovery of novel therapeutically active antimicrobial agents active against drug-resistant superbugs, and identification of novel factors of pathogenic microorganisms involved in pathogenicity using the silkworm infection model.

She was part of a research team that studied the genome sequence of Candida albicans TIMM1768, including studies of its virulence mechanisms to help in the development of treatment strategies for severe candidiasis.

In order to bring you the most up to date and accurate information, I have had Dr. Paudel Medically Fact Check, update, and add her Commentary on most of the supplement webpages on this website. These pages include:
Bacillus Laterosporus: Candida Yeast Killer or Not?

Beta Glucans Review: Immune System Booster or Not?

Biofase for Yeast & Candida

Burdock Root Review: Uses, Benefits, Side Effects

Candidate for Yeast Infections: Does it Really Work?

Candida Yeast Enzyme Review: The Best and The Worst

Cinnamon Oil for Yeast Infections: Does it Really Work?

Coconut Oil for Yeast Infections: Does it Really Work?

Does Colostrum Boost The Immune System and Kill Yeast?

Custom Probiotics Adult Formula CP-1 for Yeast Infections
DMSA for Heavy Metals & Mercury Poisoning

Do Enzymes For Yeast Infection and Candida Really Work?

Floraphage, a Clinically Proven Prebiotic Multiplier
Glyconutrients: The Scientific Proof of These Sugars That Heal

Does Grapefruit Seed Extract Kill Candida Yeast?
Does Gymnema Sylvestre Inhibit Candida Yeast?
Immune System Supplements to Boost the Immune System
Lactobacillus GG, Super Human Probiotic

Lactoferrin for Your Immune System: Does it Work?
Oregano Oil for Yeast, Proven Killer or Not?
Custom Probiotics 11-Strain Probiotic Powder
Profase Probiotic, The Best Probiotic for Yeast Infections
S. boulardii, Proven Benefits and Safety Issues
Syntol for Yeast Infections, An Unbiased Review
Theralac & TruFlora for Yeast Infections & Other Digestive Illness

Threelac Review: Yeast Eating Probiotic Or Not?
Thymic Protein A and Immune System Function

Zeolite for Mercury Poisoning & Other Heavy Metals

As more pages are added in the future, we will be working closely with Dr. Paudel to make sure they are Factually correct and up to date with the latest medical research.

If you are interested in Dr. Atmika Paudel's work, you can review her Research articles at ResearchGate.

Home Privacy Policy Copyright Policy Disclosure Policy Doctors Store

Disclaimer: These statements have not been evaluated by the Food and Drug Administration. The products and information contained herein are not intended to diagnose, treat, cure, or prevent any diseases or medical problems. It is not intended to replace your doctor's recommendations.

Copyright © 2003 - 2020. All Rights Reserved under USC Title 17.
Do not copy content from the page or this website without my expressed written consent. To do so is Plagiarism, Not Fair Use, is illegal, and a violation of the The Digital Millennium Copyright Act of 1998.