FTC Disclaimer: We do receive financial compensation for some of the products we recommend and personally sell.
Biofase Testimonials & Reviews

Biofase testimonials and reviews keep pouring in and you can add yours at the bottom of this page if you wish. None of these reviews are made up folks, these are real people just like you.

Hello Dan,
I always want to write to you about my improvement but I always think, it is going to be such a long emai. Constant yeast infections an then the diet and treatment really affect all aspects of anyone suffering from it. I am doing so much better. With the biofase and cp1 I could notice a big difference after using them for a month. I am not completely cured though, and I know it will take many months, but at least I hardly ever have the horrible itch and irritation. Now, I hardly ever get those symptoms and when I do, it is very little and if I do, it is because I ate too much fruit and / or haven't slept enough hours. But I know I'll get there. I have to be patient, consistent , and keep praying. Thank you for your wonderful help, all your replies to my questions and I will definitely write back because I have questions about information I have read in your candida webpage.
Thank you again!
Sara

Hi Dan,

Biofase is Wonderful!

I am using Biofase in conjunction with caprylic acid/ psyllium/ bentonite.  I am also using it in another way I thought you might like to know about. I emptied a capsule and put in on the back and sides of my tongue to see if it would dissolve the film.  The next day the sides were clear and the back was a little better.  I follow it by pulling coconut oil and caprylic acid through my teeth and letting it coat my tongue for 15 minutes.  It seems to do the trick.  It does NOT taste good, but desperate people try desperate things.  I love seeing my almost clear tongue in the morning.  And that tinny taste that stays with me is almost gone.  I thought you might like to know. 
Update two weeks later.
I found that if Biofase is placed directly on the tongue, it works well, but irritates the throat and roof of the mouth.  It is better to make it into a thin paste with water and coat the tongue, leaving it on for 10 minutes.  It is not quite as effective, but gentler on the rest of the mouth.  Still, my tongue looks great!

Michelle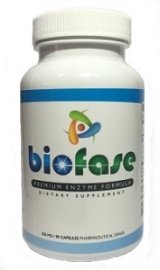 Hi Dan,
Just to thank you for your last response, I have been away from an internet connection for a while and to say that Biofase is working very well for my parents as it did for me. It is obvious they have gained vitality.
With best wishes from Spain,
Merce
Hi Dan,
I am almost through my first bottle of Biofase (180 caps). I intend to reorder and follow your suggestion of continuing this product for 30-60 after the last candida symptom. (I have two weeks left of my second 30-day parasite/intestinal cleanse.) I can tell that Biofase has made a positive difference! My energy has increased and I feel mentally clearer.
Thanks so much for ALL your spot-on advice. Candida changed my health for the worse and your amazing product is changing it once again - but this time, for the BETTER!
With much gratitude,
Connie
Hi Dan,

I was introduced to your protocol more than 3 months ago by a dear friend who was just two weeks ahead of me in the cleansing process. As a wellness educator dedicated to pursuing the highest degree of clarity in my own being and those of others that I serve, I started your candida cleanse protocol.
Two years ago I had a skin melanoma and while I am well aware of my adrenal issues and beyond, it wasn't until my friend mentioned your site and your research that connections started to be made. Reading your information and the connections between cancer and candida has me on this next level of cleansing. I have been taking Biofase this whole time as well as other supplements that you suggest and I am excited to watch and feel the deeper layers reveal themselves. I have had die off symptoms and know that I am on the right track.
I have had a very clean diet for many years but have been eating way to much quinoa over these last years instead of other grains, have been making fruit smoothies for years with greens and other wonderful ingredients but realize the amount of sugar I have been consuming in this vein is exorbitant.  I have reintroduced meat upon looking into your research.
The Biofase seems to be a cornerstone to your protocol with the other supplements important as well. My sister is now taking these supplements as well as she had breast cancer two plus years ago and was diagnosed with a possible tumor in her other breast. As it turns out she is cancer free in that breast but now dedicated to transforming her story. I guess I will not know for sure if this will prevent other cancer flare ups however I am convinced that providing the hormonal system with more of a stress free environment has to turn the speeding train around! 
Thank you for your service. 
In gratitude,
Ginny
Hi Dan,
I just wanted to let you and EVERYONE know how wonderful your treatment protocol is. It is the one thing I found that has helped me to heal my very sick and fatigued body. I personally feel that everyone could benefit from your treatment protocol. I followed your protocol closely as outlined to heal myself of systemic yeast and to restore my very sluggish liver. I did the ultimate digestive cleanse for 2 months to get rid of parasites and the whole time ate very healthy eliminating all sugar, dairy, alcohol, bread, and gluten. I was very fatigued. After two weeks into the digestive cleanse I started rotating the different herbs (oregano, candidate, cinnamon, grape-seed, and the sf722 . I also added the zeolite powder two weeks into the herbs to get rid of any mercury from prior amalgam fillings. The whole time I took biofase to kill the candida because I knew my yeast was systemic and wanted the best product out there. I have tried both the 11 strain and CP-1. I am currently taking the 11 strain which works best for me and tastes great. I just feel very confident taking biofase because I know it is positively penetrating and pulverizing the candida, and I love the effectiveness of the 11 strain. It  got my body regularly eliminating 3 times a day- and comfortably. I loved it so much I didn't even bother taking the free probotic that came with the digestive cleanse. 
Before your treatment protocol, 1) I woke up several times throughout the night. Now, I actually sleep through the night fully. I actually woke up and cried after sleeping through the entire first night because it had been over 10 year since I remember sleeping through an entire night. That was a miracle to me and was HUGE 2)My hair was dry, brittle and falling out (SCARY), now it shines, it has grown longer and has stopped falling out. 3) I had large pores on my face that none of the very expensive products would minimize, now my pores are small and my skin looks amazing and fresh. Everyone says I look younger. 4) I have dealt with severe fatigue for years now. I was so bad that when I first woke up in the morning, I had to place my hand on the wall to get my balance. I felt like I was knocking on deaths door. None of that is normal yet my annual exam only indicated low vitamin D levels. Disturbing isn't it? It was very frustrating for me because I would tell my doctor how I felt and she would respond, "Your levels are excellent". After reading your information I learned to take my health into my own hands. Thank you Dan! 
I took your advice after completing the digestive cleanse and did the liver cleanse to get everything in tip top shape.  After the first one, I felt better but after the second one I really felt an increase in my energy.  I saw hundreds of little pea green stones. I still need to complete another one but I know I'm on my road to recovery. 
Currently, I'm still following your recommendation because I CLEARLY see the astonishing results. The biofase, strain 11, a healthy diet, the liver cleanse, and you educating me on how to heal my body has really saved my life. I feel so happy to have you as a resource to restore my body and my health back!!! I only wish EVERYONE could find out about you and the products. I tell as many people as possible. God led me to you to get healed! I can not thank you enough. 
Best Regards,
Susie
Hey Mr. Dan,
Hope your doing well.
I have been using Biofase regularly, and CP1 or 11-Strain with antifungals for 4 months now, and all have been a great success for me. I feel much less fatigued all the time and have been able to enjoy life much more. My infection in my groin is practically gone and I feel so much healthier than I ever have before. Although the diet is hard to follow sometimes too, it really has helped more than I could have imagined. I am still working to rid myself of this infection and am thankful for everything you have provided.
Sincerely,
Kendall
Hi Dan,

I started taking Biofase along with Prescript Assist about a month ago. I just got a text from a friend who texted me just to say that I look great. Many people are telling me that. I have had systemic candida for decades and have many symptoms, digestion, elimination, vaginal yeast infections, etc. My elimination is definitely better and constipation and diarrhea are gone. I have more energy, my skin looks fabulous and I am sleeping better.
I tried the herbal antifungals for years and all they did was make me feel horrible. I was told to grin and bear it and  get over the hump but the day never came. I have to say that I have not experienced die off symptoms with Biofase. 
Thanks,
Enid
Hello Dan,
I am about to finish my first bottle of biofase and must say I am impressed. I had candida symptoms (both intestinal and vaginal) for approx. 4 months. After following a restricted diet (as you and others recommended), adding a different kind of probiotics and 1 month on biofase, I am happy to report I am symptom free. However, I am ordering again because I want to make sure all is killed. Thanks for your research and dedication.
Cheryl

Hello Dan
Thank you so much for your research and information. I've been to my primary physician and everything from the RX didn't work for long only temporary fixes tried several other different things for my yeast problems and found that Biofase and CP-1 has been the better benefit for me.  I also take coconut oil and cinnamon extract as an added yeast fighter.
Again thanks so much for your work!
Terence
Hello Dan,
I am a beautiful, 28 year old girl with the world at my fingertips, and candida has crippled me for the past 5 years. I can't even begin to tell you how much this issue has impacted my life. I'm still struggling, and dealing with a relapse on sugars and carbs at the moment. My candida is rearing it's ugly head once again, and it's severely depressing. If you could look in my kitchen cabinet you would see everything from Caprylic acid to oregano oil, to L-Glutamine, organic bowel cleansing formulas, Lufenuron, probiotics, enzymes, Nystatin...the list goes on.
I have managed to get a hold on my candida at times, but always when I stop the onslaught of treatment and the return to regular food- it comes back. My symptoms have ruined my life. I have severe IBS to the point of already having had a colonoscopy- "nothing wrong" the doctor says; to now only able to go to the bathroom using large amounts of laxatives every few days. The pain, cramping, bloating, itching, horrible rashes, mucous, and disgusting taste in my mouth has ruined my life. Every time i start to feel like I'm beating it, it reemerges even stronger than before.
I have a remarkable awareness of my body, and have had my fun with die off symptoms over the years. I know exactly what products help and which ones don't. YOURS does.
The first day I started Biofase I had an intense die off headache and a sore throat that lasted for weeks. I love when I have die off symptoms because that's my clue to know somethings working. The bad taste in my throat was gone, and I felt like I could live again. Since I stopped taking it, my symptoms have slowly crept back up, and along with my sugar relapse (organic sugars at least!) they've intensified.
I'm seeing a M.D turned holistic naturopath for a hefty price to do some food allergy and stool testing; hopefully that can help with the IBS-C. Until then, I need to continue to fight this thing, and get back on the diet, and try your product once more. I pray to God this debilitating sickness can one day be a distant memory to me, but somehow I doubt it. I wouldn't spend my hard earned money on something that didn't work, so that's why I'm back at your site.
-Sarah
Hi Dan,

As a person who has a great deal of experience with CMC (chronic mucousal candidiasis), I can tell you that there is very little available on the common market that can provide effective prophylaxis without a prescription. I can honestly tell you that this product works as well as the more effective prescription medications. As those who have issues with candida well know, it is difficult to get treatment for it within the medical community unless they are papered up as immunocompromised.
Given that most of the country has issues with candida, Biofase is a welcome life saver. One will experience all of the same die-offs as when taking prescription meds and these can be difficult depending on the condition severity. It is a tough ride, but it's worth it. I did notice that I was able to get through the worst of it within two weeks and my infection is severe and well entrenched, which means that this is an easier ride. The die-off is less violent than Nystatin. I would recommend this to anyone, even those who have tried prescription meds and are having recurring infections.
Brian
Hi Dan,
I'm writing to tout the effectiveness of Biofase. It is a remarkable product, the first time I took it I saw an incredible amount of biofilms exit my body through my stool. I have found with consistent use it is slowly eradicating the yeast from my body with the help of probiotics and antifungals. I highly recommend this product as a key element in getting rid of candida. Thanks for all the time you have spent researching.
Sincerely,
Ms. D
Dear Dan,
My name is James. I have suffered from severe systemic Candida for over 15 years. It has been by far the most difficult period of my life. Daily pain, terrible fatigue, and frequent bouts of totally debilitating agony in my body - just waking up and feeling as if I'd been poisoned for no discernible reason. As in the type of crippling and chronic suffering that causes one to not only lose a lot of work time and leisure time in constant recovery, but also just destroys the quality of your life in every regard. Horrible.
I searched the web for years (literally) gathering information. I read several books. There is quite a large amount of conflicting information out there about candida. And many outright lies. Fast forward to last year (2013). FINALLY, MERCIFULLY, I found my way to your website and your honest, solid, scientifically backed up information and research into this hideous, invasive, parasitic entity known as candida yeast, which by the way has NO business being in the human diet and is NOT supposed to be a food ingredient.
In any case, I tried my first bottle of Biofase last year, and used it in conjunction with your four day anti fungal rotation using cinnamon oil, oregano oil, SF-22, GSE and candidate (I made my own version of this from dry herbs and took huge doses). Within a few days of beginning this regimen, I felt genuine improvement for the very first time in over ten years of actively trying to beat this disease.
By the time I got to my second bottle, and my second rotation of the anti fungals, I was a totally new person. Not completely healed, but WELL on the way. As in, an occasional, very infrequent bout of the crippling pain and feeling poisoned. By the way I also detox very regularly with herbs and other natural means.
Fast forward again to 2014. I have been using Candex along with Serrapeptase (sold separately) for several months now, as I had been too busy and was also offline for many months, so I was using those two products rather than Biofase. They do work fairly well together, but I can attest to the fact that Biofase is the Best. It's all in one product, not two, and it simply, flat out WORKS BEAUTIFULLY.
I have found your statements that the Biofase enzymes eat up all the unwanted matter and yeast components, and then taking CP-1 afterward, that the probiotics clean up the mess, to be 100% accurate and true. That is precisely the experience I am having.
And, as a huge bonus, I have found that these enzymes, particularly serrapeptase, are IMMENSELY beneficial for helping me to heal joint pain and long standing, chronic muscle tissue knotting and scar tissue.
So for me, I'll continue to take these wonderful enzymes long after I am totally free of candida. I can't say that I feel I am completely free yet, but I am getting very close. I continue to do the anti fungal rotations using the above protocols along with other anti fungals that I use, including clove oil, black walnut tincture, wormwood dry herbs and others. I still occasionally have the bouts of pain and suffering for no explicable reason, but they are very infrequent now.
Dan, there can be NO doubt. These enzymes, and the knowledge these pages of yours have provided, have literally saved my life.
Bless you and Thank you my Friend.
Love,
James G.
Biofase works very well, and is definitely worth the price. It causes no die-off and diminishes the symptoms of candida better than anything I've tried.
Trent
Dear Dan,
Please allow me to tell it like it is or WAS !!  Oral candidis can be compared to unstoppable cancer or in my case I felt like a leper!  Not a spot in my mouth or throat where I was not being eaten alive.  Barely able to swallow pureed foods.  Fluconazole saved me, but after several relapses, I asked by Dr. what would happen if my body resisted the drug.  He said "You're out of luck"!  I soon became resistant and I was out of luck for sure... that is until I found yeastinfectionadvisor.com.....a gift from God, an answer to a prayer for help....I was saved again with Syntol, Latero and 11 strain but remained on constant guard because for me those weapons only held the enemy at bay.  In comes Biofase to the rescue!!  Believe me, 6 Biofase can do what 8 Syntol can not do...the enemy is dead...I am free at last and am in the maintenance phase with Biofase, Latero, and 11 Strain.  I really appreciate your keeping the Biofase cost down!
God Bless you Dan,
Anthony
Hi Dan,
I've been on the systemic candida protocol for nearly a month now and can see a gradual improvement, in my digestion and vaginal yeast infection. I haven't been able to do the cleanse or use some of the anti-fungal herbs because I'm pregnant but I'm doing all I can and am satisfied to finally feel like I'm gaining a foothold against my yeast infection. I've been battling for at least two years now!
Early on, the Biofase caused burning in my stomach but when I eliminated it from the protocol, I could tell that my improvement suffered.  I reduced the dose and then have slowly brought it back up and no longer have any discomfort. Great stuff, I truly believe it is key to the treatment.

AD
Florida
Biofase is BY FAR the most effective enzyme I have taken for my digestive problems! I felt almost immediate relief from the gas and bloating that I frequently experience. It helps with constipation too.
Thanks,
Roger
Hello Dan,
First of all let me say thanks for responding to my emails. I am reordering my 2nd bottle of Biofase and am going to up my intake to 2 pills AM/2 pills PM. I take it along with 5 pills of sf722 each time. I have also gotten serious about the Zeolite Powder. Although I can't report miraculous things YET, I am confident that I am headed in the right direction. I suggest anyone out there battling this ugly situation get on the products you recommend.
Thank you so much for your insightful website and the newsletters. It has helped so much more than all the money spent with Functional Medicine doctors (who are suppose to help us where traditional doctors have no clue).
Kay
Any questions about BioFase or yeast infections in general, please use the contact form at the bottom of the contact page.
To enter your BioFase testimonial and receive a 10% discount on your next order, please use the form below.

Home About Us Privacy Policy Copyright Policy Disclosure Policy Doctors Contact Us

Disclaimer: These statements have not been evaluated by the Food and Drug Administration. The products and information contained herein are not intended to diagnose, treat, cure, or prevent any diseases or medical problems. It is not intended to replace your doctor's recommendations.

Copyright © 2003 - 2019. All Rights Reserved under USC Title 17.
Do not copy content from the page or this website without my expressed written consent. To do so is Plagiarism, Not Fair Use, is illegal, and a violation of the The Digital Millennium Copyright Act of 1998.