FTC Disclaimer: We do receive financial compensation for some of the products we recommend and personally sell.
Oregano Oil for Yeast, Proven Killer or Not?

Oregano Oil for yeast infections has been tested extensively against molds, yeast, fungi, and candida in the scientific field. It is a proven candida yeast, fungi and bacteria killer.

In a study done on 12 mice injected with candida albicans and published in the Journal of Molecular and Cellular Biochemistry. All six of the mice fed oil of oregano survived more than 30 days with no sign of Candida infection, while all six mice that were fed just olive oil died within seven days.
A soon-to-be published study by Dr. Preuss and colleagues, looked at the potential of oregano oil in Candida albicans, and found that the oil demonstrated anti-fungal powers in test-tube and experimental studies, against both systemic and skin infections.
In a clinical study performed at Teikyo University Institute of Medical Mycology, Tokyo, Japan in 2007 oregano oil for yeast was added to a footbath where the water was 107.6 degrees, 99.7% of the mycelial fungi were killed. Another test was run at 81 degrees with the oil added and considerable damage was done to the fungi.1 This would be a great way to treat athlete's foot or toenail fungus.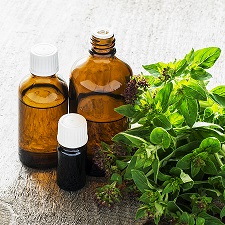 In another test done in 2003 at the Universidade de Coimbra in Portugal, oregano oil for yeast was used against 7 different clinical isolates of candida and 3 aTCC type strains of candida. A fungicidal effect was observed to the membranes of the candida strains effectively killing it.2
In 2002 at the Institute for Biological Research, Belgrade, Yugoslavia, five different essential oils were tested for anti-fungal activity against 13 fungal species. The types of fungi tested were known to cause food poisoning, effect plants, animals and were also human pathogenic species. The oils presented various degrees of inhibition against all the fungi investigated. The highest and broadest activity was shown by the carvacrol content oils, while the oil of sage was the least effective. Carvacrol from oil of oregano exhibited the highest level of anti-fungal activity among the oils tested.3
In another study done in South Africa in 2002, the effect of nine different oils was evaluated on the growth of Aspergillus parasiticus and Fusarium moniliforme in grains. Oregano oil for yeast was found to have an anti-fungal effect.4
In one study designed to examine the inhibition of mycotoxins involved the incorporation of each of seven oils into a broth and into patty cultures. The fungal mycotoxin was identified by high-pressure liquid chromatography. Clove oil was the most inhibitory to the growth of A. parasiticus and F. moniliforme, followed by cinnamon oil, oregano and mace oils. Neem and eucalyptus oil did not affect fungal growth.
Seven essential oils from seven air-dried plant species were analyzed by gas chromatography-mass spectrometry against the fungi Penicillium digitatum in Athens Greece in 2000. The radial growth, conidial germination, and production of Penicillium digitatum were inhibited completely by oregano, thyme, dictamus, and marjoram essential oils at relatively low concentrations (250-400 microg/mL). Lavender, rosemary, and sage essential oils presented less inhibitory effect on the radial growth and conidial germination of P. digitatum.5
The inhibitory effects of 10 selected Turkish spices were studied by Akgül A, Kivanç M. from Turkey in 2000, oregano essential oil; thymol and carvacrol towards growth of 9 food borne fungi were investigated in culture media with a pH of 3.5 and 5.5 in 1988 in Turkey. The anti-fungal effects of sodium chloride, sorbic acid and sodium benzoate and the combined use of oregano with sodium chloride were also tested under the same conditions for comparison. Of the spices tested, only oregano showed effect on all fungi. This study was published in the International Journal of Food Microbiology. 6
There is no doubt that oil of oregano for yeast infections is a medically verified yeast and fungi killer. However, it is hot when used straight so if you cannot stand the heat I recommend that you dilute it in a little bit of coconut oil. It can also be taken in capsule form by adding the drops to a vegetarian capsule.
All these Oregano Oil for yeast products below are very high quality.
Oregano Extract is found in Microfase

Source Naturals Wellness Oil of Oregano
North American Herb & Spice Oil of Oregano
Back to Herbal Yeast Infection Remedies
Any questions or concerns about oregano oil for yeast infections please feel free to contact me.
Medical References

1. Inouye S, Uchida K, Nishiyama Y, Hasumi Y, Yamaguchi H, Abe S. Teikyo University Institute of Medical Mycology, Tokyo, Japan; 2007
2. Salgueiro LR, et al., at the Laboratório de Farmacognosia, Faculdade de Farmácia/CEF, Universidade de Coimbra, 3000 Coimbra, Portugal. 2003
3. Sokovic M, et al. at the Department of Plant Physiology, Institute for Biological Research, Belgrade, Yugoslavia. 2002
4. J Food Prot. 2002 Apr;65(4):683-7. Spice oils for the control of co-occurring mycotoxin-producing fungi. Juglal S, Govinden R, Odhav B. at the Department of Biological Sciences, M. L. Sultan Technikon, Durham, South Africa.
5. J Agric Food Chem. 2000 Jun;48(6):2576-81. GC-MS analysis of essential oils from some Greek aromatic plants and their fungitoxicity on Penicillium digitatum. Daferera DJ, Ziogas BN, Polissiou MG. Laboratory of General Chemistry and Laboratory of Phytopathology, Agricultural University of Athens, Greece.
6. Int J Food Microbiol. 1988 May;6(3):263-8. Inhibitory effects of selected Turkish spices and oregano components on some foodborne fungi. Akgül A, Kivanç M. Ziraat Fak., TUT Böl, Erzurum, Turkey.
Home About Us Privacy Policy Copyright Policy Disclosure Policy Doctors Contact Us

Disclaimer: These statements have not been evaluated by the Food and Drug Administration. The products and information contained herein are not intended to diagnose, treat, cure, or prevent any diseases or medical problems. It is not intended to replace your doctor's recommendations.

Copyright © 2003 - 2019. All Rights Reserved under USC Title 17.
Do not copy content from the page or this website without my expressed written consent. To do so is Plagiarism, Not Fair Use, is illegal, and a violation of the The Digital Millennium Copyright Act of 1998.