About Dr Vibhuti Rana, PhD
Doctor of Molecular Biology & Genomics

Dr. Vibhuti Rana received her Bachelors in Science degree in Bioinformatics from Panjab University, in Chandigarh, India.

Bioinformatics is an interdisciplinary field that develops methods and software tools for understanding biological data. As an interdisciplinary field of science, bioinformatics combines biology, computer science, information engineering, mathematics and statistics to analyze and interpret biological data.

Bioinformatics includes biological studies that use computer programming as part of their methodology, as well as a specific analysis "pipelines" that are repeatedly used, particularly in the field of genomics. Common uses of bioinformatics include the identification of candidates genes and single nucleotide polymorphisms (SNPs). Often, such identification is made with the aim of better understanding the genetic basis of disease, unique adaptations, desirable properties (esp. in agricultural species), or differences between populations. In a less formal way, bioinformatics also tries to understand the organisational principles within nucleic acid and protein sequences, called proteomics.[1]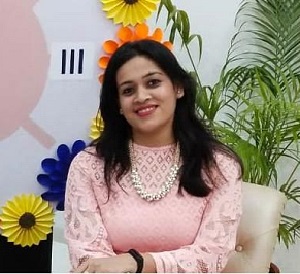 From there, she accomplished her Master's Degree with a Gold Medal in Genomics from Center for Excellence in Genomic Sciences, Madurai Kamaraj University,Tamil Nadu in 2012. During that time she ran a Gene Expression Analysis and Serum Proteomics experiment looking for a Potential Application to Cardiovascular disease.

Later, she received her PhD in Molecular Biology, with a specialization in Mycobacterial Drug Resistance from Council of Scientific and Industrial Research-Institute of Microbial Technology, Chandigarh, in affiliation with Jawaharlal Nehru University, New Delhi. Her work focused on identification of specific polymorphisms in drug resistance conferring loci of Mycobacterium tuberculosis isolates and lineage identification of these clinical strains.

Besides holding a PhD in Molecular Biology, Vibhuti is an enthusiast in microbiology, with a parallel interest in communicative sciences. She has completed the Training course in Scientific Journalism from the Indian Science Communication Society. She also works as a freelance scientific writer and editor for manuscripts and environment-based websites.
On a personal front, she lives with her husband, an officer in the Indian Armed Forces and her 3-year old daughter, and enjoys reading and sketching!



Honors and Awards
Gold Medal in Genomics from Madurai Kamaraj University in 2012
Because of her 7+ years of extensive education and research into Molecular Biology, Microbiology, Biochemistry, and infectious diseases, along with her Bioinformatics training on how to interpret biological data, she is a valued member of the Yeast Infection Advisor Team!



If you are interested in Dr. Rana's work, you can review her Research articles at ResearchGate. You can also learn more about Dr. Rana by visiting her LinkedIn profile.


1. Lesk, A. M. (26 July 2013). "Bioinformatics". Encyclopaedia Britannica. Retrieved 17 April, 2017
Home   Privacy Policy   Copyright Policy   Disclosure Policy   Doctors   Store
Copyright © 2003 - 2023. All Rights Reserved under USC Title 17.Do not copy
content from the pages of this website without our expressed written consent.
To do so is Plagiarism, Not Fair Use, is Illegal, and a violation of the
The Digital Millennium Copyright Act of 1998.