Skin Yeast Infection Pictures
Skin Yeast Infection Pictures
Updated 2/5/2021
Written by Dan Jackowiak Nc, HHP
These skin yeast infection pictures are all commonly caused by Candida albicans, Candida tropicalis, and Candida parapsilosis, which are three of the most common yeast species that can infect the human body. These particular Candida species can also infect the inside of the body, mostly the intestines and mucous membranes.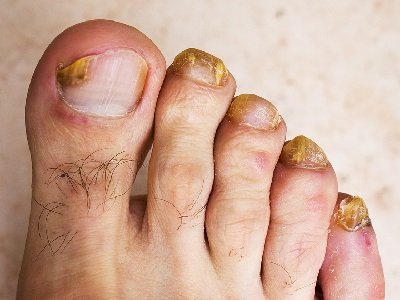 Additionally, many skin yeasts that typically don't infect the inside of the body are various species of Tinea.

This yeast causes ringworm and most cases of toenail fungus.
There are five different species of Tinea, they are:
Tinea unguium (onychomycosis)

Tinea pedis (Athlete's Foot)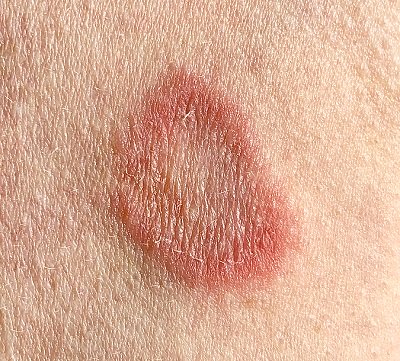 Tinea capitis (scalp ringworm)

Tinea corporis (ring worm)

Tinea versicolor
Malassezia also infects the skin and most commonly causes dandruff and seborrheic dermatitis.
Trichosporon is an asexual yeast species that is commonly found on the skin of humans and other animals. It is responsible for the condition called White Piedra.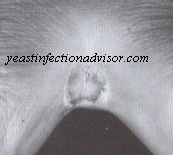 This yeast infection picture of the hand is in between the fingers. It can also occur anywhere on the body.
If allowed to remain infected long enough, the skin gets hard as it macrophages and can crack open when the skin is stretched. This can be very painful for the person that has it.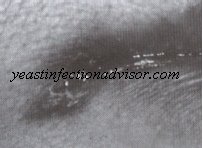 This yeast infection picture of the skin is in the crook of the arm.
It has broken open and has now become an open sore and is very painful. Macrophaging will be the next step and the skin will harden.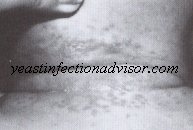 This is a yeast infection picture of a rash on a baby that looks like a heat type rash on its neck. This is common under the arms, as diaper rash, behind the legs, etc.
Anywhere there is heat and moisture the yeast can grow.
Try to keep these areas dry as possible. Cornstarch may be used to absorb moisture. I used to use this on my feet for chronic athletes foot problems. It does work very well.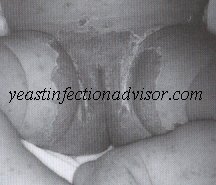 This skin yeast infection picture of diaper rash looks like the worst case of diaper rash I have ever seen.
The fungus has actually eaten off the top layer of skin.
You can make a paste out of the 11-Strain probiotic and apply it to the infected areas. I would also give them some by mouth.
Coconut Oil also works very well on the skin and is completely safe. It explodes the nucleus of the yeast cell from the inside out.
In all cases of skin yeast don't forget to treat the inside and not just the outside.
These pictures are actually pretty mild except for the diaper rash. I have some pictures that demonstrate how this stuff can actually all out attack the skin of a person so it doesn't even look like skin any longer.
In all cases of yeast infections of the skin, the possible yeast within the body should also be treated.
Have Any Questions About These Skin Yeast Pictures?
Do you have any questions about any of these skin yeast pictures or yeast infections in general? Ask your question here or contact us using the contact page of this website. It is also always a good idea to talk to your doctor as well.



Questions From Other Visitors
Click below to see questions from other visitors to this page...

The Malassezia lesions have things which are oblong or round and black in them

They begin as round red bumps which itch and burn. When the skin is broken either round black hard balls erupt or soft grey white oblong parasites erupt. …
Can removal of dental amalgams cause toenail fungus and athletes foot to flare up?

Five years ago I underwent a mod radical mastectommy for invasive ductal carcinoma. Refused chemo, radiation & hormones and have done diet/lifestyle change …
A rash that I have had for almost 2 months. First diagnosis was for Fifths' disease, then I found out after that I have a galloping yeast infection.

Can something like Fifth disease act as a catalyst to then bring on a massive yeast rash? I also have multiple allergies, both indoor/outdoor/chemical …

Skin Yeast Testimonials
Dan,
Thank you for all the info, your emails and website.  I'm telling all my friends about you and your website.
My scalp breakout is gone! I was scheduled yesterday for a biopsy but had to cancel. I have no more. I do believe that the Biofase and diet is the reason.
Sincerely,
Deborah
*****
Hi Dan,

I just wanted to let you know that I ordered biofase one time last year because I was having horrible scalp issues. I used it for one month and my scalp completely healed. I sense that these problems might be coming back so I am ordering another bottle today.

Thanks for such a Great product,
Amanda
*****
Hi Dan,


On top of the 14 minerals & 12 other supplements normally taken, after a week of existing 90% on raw Apple-cider vinegar, your Biofase arrived. On day 4, taking 2 on arising, & 2 caps before bed, rosacea started fading.Too my abdomen was shrinking. Next after adding 40-60 billion Probiotics daily, & too taking Coconut oil, Healthy improvements doubled, Yes! -
I am pleased to continue with suggestions... Thank you Dan, for kindly caring as you do & making helpful products available.

Annie
*****
Hello Dan,
I want to point out that many moons ago, you suggested doing a colon and parasite cleanse to aid in getting Candida under control. It made sense to me, so I did do it for a month.
I was totally amazed at the results. I not only passed liver flukes but also Candida – little white balls surrounded by stool. Within days, I felt so much better!! More energy, my skin looked better and I slowly got rid of the psoriasis on my left elbow and left ankle that I had had for years. I also lost about 20 lbs.
I also continued to take Threelac which I don't believe is that great but does clear up the painful Candida symptom that I had which was, a burning, stinging, weeping rash under each breast. Very painful and had quite a disagreeable odor.
So I urge everyone to do a colon/parasite cleanse when trying to get the Candida under control.
I still follow a diet of no grains and no sugar but other wise, just try to eat a healthy diet with lots of RAW foods and NO junk foods or prepared foods and only a small amount of sprouted bread. Definitely no white flour products, no pizza, no pasta! As for coffee, I could never give that up but do use Chickory New Orleans ! which is 35% chickory and Organic coffee…Yummy once you get used to it…a compromise for sure but I believe that if I stressed myself out by giving up everything that would be negative.
To sum it all up,
Thank you Dan for helping me.
Anne VA USA
*****
It's been a while........and things are going great!!! My skin is clearer - someone even said that my eyes look clearer! - I have more energy, I am losing some weight and I feel great!!!!
Thanks Dan!
Tamara
PS - if I didn't mention it before...........the cheesecake turned out great!!!! Not completely like the real thing with the stevia - but it certainly did the job!!!!
Back to Yeast Infection Pictures
Skin Yeast Page
The skin yeast page has more resources on how to treat these infections and more testimonials.
If you have any questions about any of these skin yeast infection pictures or yeast infections in general? Please fill out the form on the contact page or talk to your doctor.
Home   Privacy Policy   Copyright Policy   Disclosure Policy   Doctors   Store
Copyright © 2003 - 2023. All Rights Reserved under USC Title 17.Do not copy
content from the pages of this website without our expressed written consent.
To do so is Plagiarism, Not Fair Use, is Illegal, and a violation of the
The Digital Millennium Copyright Act of 1998.