Candida Diet Chicken Recipes
Candida Diet Chicken Recipes
Updated 1/30/2021
Written by Dan Jackowiak Nc, HHP
No candida diet recipe section would be complete without a list of candida diet chicken recipes because chicken is considered to be a pretty healthy food.
Your average size breast, thigh or drumstick has about 30 grams of protein and around 7 grams of fat if skinless. The fat content of these pieces with the skin on runs about 15 grams on average. These fatty acids are pretty evenly spread out between saturated, monounsaturated, and polyunsaturated making chicken a nutritious food.
Like all meats, chicken doesn't contain any carbs or sugars which means it will not feed candida yeast.
All of these candida diet chicken recipes have been submitted by your fellow sufferers. We hope that you find them useful and enjoy them. If you have a recipe that you would like to share, please submit it using the form at the bottom of this webpage.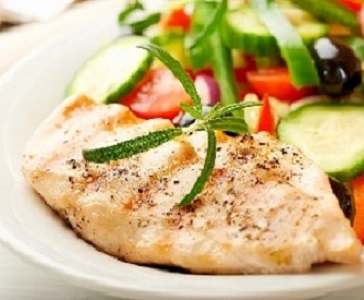 Rosemary Chicken
Prepare your favorite chicken pieces as you usually would. I prefer skinless chicken pieces with this candida yeast diet recipe but it is a matter of personal taste.

Preheat oven to 400 as you melt some butter. The amount of butter will of course vary for this yeast diet recipe depending on the amount of chicken you are cooking. Add to the melted butter either fresh or dried rosemary. A sprinkle of parsley, oregano, and garlic salt with a half teaspoon olive oil.

Coat the pieces of chicken with this mixture and place on a shallow baking pan. There should be rosemary clearly visible on the chicken pieces.

Bake at 400 for 30 to 45 minutes depending on how done you prefer your chicken. This is one of my favorite chicken dishes.
Chicken Breast in Veggie Sauce
1 carrot

2 cloves of garlic

1 celery stalk

1 fresh tomato

4 chicken tenderloins

2 tablespoons olive oil

1/2 teaspoon paprika

1 teaspoon salt

1/2 teaspoon black pepper

Sauce:

Peel and shred carrot and put it in bowl. Cut garlic into small pieces. Than cut celery in small pieces too. Peel the skin from tomato and cut the tomato too in smaller pieces. Put all these ingredients in any blender or food processor you have(i use magic bullet), but it is not necessary to blend.

Now take some salt, pepper and paprika and rub it on the chicken. Take olive oil and put it in the pen or skillet. Fry chicken until it is nice and red (or brown), it should be done. Add mixed vegetables and cook it all together for about 5-8 min.

Sauce is going to be a little bit thin but I found it very delicious.
Chicken Pieces in Yogurt
This candida diet recipe comes from South Africa.

Braise 1 chopped onion in olive oil.

Add 1 tsp turmeric

1/2 tsp jeera powder(cumin)

1/2 tsp chilli powder

1/2 tsp mustard seeds

1/2 tsp gharum masala

1/2tsp dhania powder(coriander).

Stir quickly and add 1 chopped tomato. Smash with a fork while its cooking. Add 1 cup chicken pieces(cut into cubes). Add as much garlic as you like, 1 tsp ground ginger, 3 cloves, 3 elachi(cardomoms), a little salt and freshly ground pepper. Cook on low heat until the chicken pieces are almost done. Add 6 TBS plain yogurt and simmer until done. Fresh coriander can be added while simmering. Serve with basmatti or brown rice.
Rosemary Lemon Chicken Candida Diet Recipe
2 Boneless Skinless Chicken Breast

6 to 8 Small Red Potatoes, cut into quarters, skins left on. be careful with the potatoes, they are high in sugar

1 Onion, sliced.

3 Lrg. Lemons

4 Sprigs fresh Rosemary

1 Stick Butter

Olive Oil, Freshly Ground Sea Salt & Black Pepper, Poultry Seasoning and Cayenne pepper to taste

Wash potatoes cut into quarters, place in baking dish. Add sliced onions. Squeeze 1 lemon over potatoes and onions.Drizzle with Olive Oil. Then season with Cayenne, Sea Salt and Black Pepper to taste. Cut 1 stick butter into chunks layer over potatoes. Set Aside, rinse chicken and trim fat.

Season chicken with Poultry seas. Sea Salt and Black Pepper. Place on top of Potatoes. Squeeze Lemon Juice over chicken. Drizzle with olive oil. Rub rosemary sprigs between palms, place on top of chicken. Place sliced lemons on top of rosemary and chicken. Bake at 375 for 30 minutes. Remove from oven stir potatoes a bit then cover with foil and bake an additional 15 minutes. This will finish the potatoes. Hope You all Enjoy!
Thai Chicken Soup
1 Qt. Thai culinary stock (Or you can use chicken broth or veg broth flavored with chillies, onion, garlic, lemongrass, ginger and kaffir lime leaves)

1 lb. chicken of your choice, I use tenderloins

1 green pepper

1 medium size onion

a few celery ribs, chopped

handful of millet

Saute chicken in butter or coconut oil. Add chopped onion, green pepper and celery and cook until softened. Remove chicken from pan and cut into chunks or shred. Pour broth into pan with veggies and re-ad the chicken. Bring to a simmer and add a handful of millet (I was told this was okay on this diet) and simmer until millet is done (about 15 minutes).
Chinese Chicken Fried Rice
Ingredients:

2 eggs
2 Tablespoons of water
2 Tablespoons of butter
2 tablespoons of olive oil or coconut oil
1/2 onion chopped
4 green onions chopped
4 cups of cooked short grain brown rice
4 tablespoons of Braggs Amino Acids ( soy sauce alternative)
2 teaspoons of black pepper
2 cups of cooked , chopped chicken breast, legs or thigh meat

Directions:

1.) 1 Cup of rice will make the 4 cups of cooked rice. Wash the brown rice and add 2 1/4 cup of water. This rice will take about 45 minutes to cook.

2.) In a small bowl, beat eggs with water. Melt butter in a large skillet over medium heat. Add egg and leave flat for 1 to 2 minutes. Remove from skillet onto a plate or cutting board and cut into shreds.

3.) Heat oil in same skillet; add onion and sauté until soft. Then add brown rice, Braggs amino acids, black pepper and chicken. Stir fry together for about 5 minutes, then stir in egg. Serve Hot.
Chicken a la King
- onion
- green peas
- 2 Tbsp coconut oil/butter
- ½ cup flour (buckwheat or garbanzo bean)
- salt
- pepper
- 1 cup coconut milk
- ¾ cup hot water
- ½ cup gravy (made from chicken drippings, buckwheat or garbanzo bean flour, and water – you could use broth instead)
- 2 cups cooked chicken


1. Cook onion in coconut oil/butter on medium-high heat. Add peas and reduce heat to low.

2. Blend in flour, salt, and pepper. Cook over low heat, stirring constantly, for a few minutes. Remove from heat.

3. Stir in coconut milk, water, and gravy. Heat to boiling, stirring constantly. Boil for 1 minute.

4. Stir in chicken and heat through. Serve over brown rice.
Chicken Tikka Masala
1 and 1/2 lbs. chopped chicken

Marinade:
1 c. plain yogurt
2 tbsp. lemon juice
2 tsp. cumin
1-2 tsp. cayenne pepper (I recommend starting with one as 2 is very spicy and hard to tame)
2 tsp. black pepper
1 tsp. cinnamon
1 tsp. salt
1 tsp. ground ginger

Sauce:
1 tbsp. butter
2 garlic cloves minced
2 tsp. ground coriander
1 tsp. cumin
1 tsp. paprika
1 tsp. garam masala
1/2 tsp. salt
1 can (14.5 oz.) tomato sauce
1-2 c. heavy cream
1 jalapeno minced

Place chicken in a dish or large Ziploc and add all marinade ingredients. Stir to coat chicken and place in fridge for 1-2 hours.
Discard marinade. Grill or cook chicken until no longer pink on the inside.

Melt butter over medium heat. Add garlic and jalapeno and cook for 1 minute. Add coriander, cumin, paprika, garam masala, and salt.
Stir in tomato sauce and simmer for 15 minutes until thickened.
Add cooked chicken and stir in cream in small amounts until desired spiciness is met.

Usually people put it on rice. I however love the flavor and opted to eat it alone so as not to feed the candida. I hope you like it!!
How to Treat Candida Yeast Successfully by Email
In a Rush today? No Problem, We've got you covered!


Enter your name and email in the form below and we will email you our Clinically Proven Fool Proof Treatment Plan.


Free, No strings attached!
We hope you enjoy these candida diet chicken recipes and if you would like to share your own to help your fellows, please feel free to post it below.
Candida Diet Vegetable Recipes
If you have any questions related to candida yeast infections, please feel free to use the contact form on the website or talk to your doctor.
Home   Privacy Policy   Copyright Policy   Disclosure Policy   Doctors   Store
Copyright © 2003 - 2023. All Rights Reserved under USC Title 17.Do not copy
content from the pages of this website without our expressed written consent.
To do so is Plagiarism, Not Fair Use, is Illegal, and a violation of the
The Digital Millennium Copyright Act of 1998.