Candida Diet Beef Recipes
Candida Diet Beef Recipes
Updated 1/30/2021
Written by Dan Jackowiak Nc, HHP
These candida diet beef recipes where submitted by your fellow candida yeast sufferers. It is best when cooking with beef to use grass fed and finished if possible. These days grass fed beef is available in just about any grocery store.
The fatty acid Omega fat ratio of normal commercial beef is about 20 parts Omega 6 to 1 part Omega 3. Grass fed and finished beef runs about 3 parts Omega 6 to 1 part Omega 3, which is closer to the bodies requirements. To much Omega 6 fats in your diet will lead to overall inflammation and the accepted medical consensus is that chronic inflammation leads to many degenerative diseases.
Arthritis, Ulcerative colitis, Irritable bowel syndrome, Crohn's disease, and Chronic obstructive pulmonary disease (COPD), and Vasculitis  are all considered to be inflammatory diseases.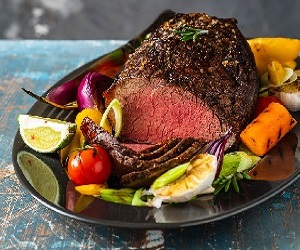 On the other hand, Omega 3 fats actually reduce inflammation and according to WebMd, the help reduce triglyceride levels, lower blood pressure, slow the development of plaque in the arteries, reduce the chance of abnormal heart rhythm, and reduce the likelihood of heart attack and stroke.
Healthline says they reduce inflammation, are good for the skin, can help with asthma, can help immune function, provide quality food for the brain helping with mental decline, can reduce symptoms of ADHD, help the symptoms of anxiety and depression, can improve eye health, and helps keep the heart healthy.
With benefits such as these, it just makes sense to make sure you get enough Omega 3's in your daily diet and reduce the Omega 6.
Any way, here are a few recipes and I will add more as time permits. You are welcome to use the form below to add your favorites as well.
Candida Diet Beef Recipes for Dinner
Good Ole Meat Loaf
This candida diet beef recipe calls for 2lbs. ground beef. 1 cup chopped celery, 1 beaten egg, 1/4 cup chopped onion, 1/2 cup water, 1 tsp sea salt.

Combine all ingredients. Shape into a loaf and bake in a 9x5 pan at 350 for about an hour. This will serve six people.
Pot Roast
This candida yeast diet beef recipe calls for a 3lb brisket of beef. One clove garlic, minced. One large chopped onion, one bay leaf, 1/2 teaspoon salt, 1/2 teaspoon course black pepper. You can add a variety of vegetables to this dish such as carrots, celery, bell peppers, squash etc for a one dish meal.

Preheat oven to 450. Rub meat with garlic and pepper and place in a greased heavy sauce pan. Brown meat for 10 minutes on each side. Add remaining ingredients and one cup of water, reduce heat to 300 and bake for about 3 hours or until tender.
Swedish Dill Meatballs
2 # ground beef (ground turkey is also good)

1/2 finely chopped onion

1 t. nutmeg

1t. apx sea salt

1 t. dried dill weed

Pepper to taste

sauce: 1 c. organic vegetable broth (read label make sure no yeast etc...)

1 c. heavy cream

2 T. fresh or dried dill weed

salt and pepper to taste

You can also add 1 to 2 eggs depending on consistency of meat. 1-2 T. heavy cream. Mix with hands. Roll into one inch balls bake 350 degrees 30-40 min.

Sauce: place all into saucepan boil, bring down to simmer for 10-15 min (will be thin but very tasty).
Zestful Steak Candida Diet Recipe
Ingredients:
sirloin steak, preferably organically raised, no antibiotics or steroids because that kills good bacteria that controls candida.

Vidalia Onion, Garlic Clove, Dill Weed, Salt, Pepper.

Cut up garlic clove into small pieces.

Sprinkle some salt, pepper, and dill weed on both sides of the steak.

Add little bits of garlic to both sides. (push into meat so it sticks)

Cook till desired type.

Heat onions separately and add to steak. Also asparagus is good in conjunction to steak and onions.

Enjoy :) mmm
Garlic-Caper-Anchovy Burgers
1 lb lean ground beef

2 egg yolks

3-4 cloves garlic

4-8 anchovy fillets

12 capers, salt-cured

Rinse and soak the anchovy fillets and capers (separately) to reduce salt content. Mix the ground beef with the egg yolk.

Mince the garlic, anchovies and capers and add to ground beef mixture. Form hamburger patties and grill to desired doneness.

Serve "naked" over a bed of arugula, drizzled with grapeseed oil if desired.

***Egg yolk is optional, but very helpful with leaner beef
How to Treat Candida Yeast Successfully by Email
In a Rush today? No Problem, We've got you covered!


Enter your name and email in the form below and we will email you our Clinically Fool Proof Treatment Plan.



Free, No strings attached!
We hope you enjoy these candida diet beef recipes and if you would like to share your own to help your fellows, please feel free to post it below.
Candida Diet Vegetable Recipes
If you have any questions related to candida yeast infections, please feel free to use the contact form on the website or talk to your doctor.
Home   Privacy Policy   Copyright Policy   Disclosure Policy   Doctors   Store
Copyright © 2003 - 2023. All Rights Reserved under USC Title 17.Do not copy
content from the pages of this website without our expressed written consent.
To do so is Plagiarism, Not Fair Use, is Illegal, and a violation of the
The Digital Millennium Copyright Act of 1998.