SF722 for Yeast Infections
Updated 2/3/2021

Medically Reviewed by Dr. Atmika Paudel, PhD -Written by Dan Jackowiak Nc, HHP and Dr. Vibhuti Rana, PhD
Dr. Atmika Paudel, PhD says... The facts given about undecylenic acids and their effects on yeasts and other fungi in the this article is medically correct.

Sf722 for yeast most active ingredient is undecylenic acid that is extracted from castor bean oil. It is an eleven-carbon, mono-unsaturated fatty acid and also occurs naturally in the body's perspiration. Undecylenic acid is approximately six times more effective as an anti-fungal than caprylic acid extracted from coconut oil and is helpful in maintaining a healthy balance of intestinal and vaginal flora.

In 1945 Wyss BJ and Associates discovered anti fungistatic and fungicidal action of fatty acids and related compounds, undecylenic acid was one of those compounds. Irene Neuhauser demonstrated that it can successfully treat intestinal Candida yeast infections again in 1954. Arch Intern Med 1954;93:53-60.

Sf722 for yeast inhibits yeast from converting to the mycelial form. McLain N, Ascanio R, Baker C, et al. Undecylenic acid inhibits morphogenesis of Candida albicans. Antimicrob Agents Chemother 2000;44:2873-2875. This helps prevent the formation of candida biofilms.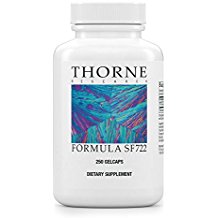 The active ingredient in Sf722 for yeast has been shown to be effective in preventing fungal overgrowth associated with vaginal and gastrointestinal candidiasis via its fungicidal activity. MR, Olsen L, Rogers A. Recurrent vaginal candidiasis. JAMA 1977;238:1836-1837.
During lactation, oral administration of Sf722 for yeast to nursing mothers can prevent thrush in babies and is useful for the treatment of breast yeast infections. It also inhibits oral candidiasis or thrush in adults and tests have shown it to completely inhibit the growth of denture stomatitis.

Sf722 for yeast has been found to be effective against such organisms as Candida albicans, Trichophyton species, Epidermophyton inguinale, Microsporum audouini and when applied topically against the herpes simplex virus in both animals and humans. (6,7)

It is still used today for fungal infections of the skin in Desinex cream commonly used for skin yeast caused by Candida albicans, Trichophyton species, Epidermophyton inguinale, and Microsporum audouini.

Undecyclenic acid has a long history of safety and is approved by the FDA for the treatment of fungal infections. It is best to take it in capsule form because of the bad taste and possible irritation of the mucous membranes.
Dr. Vibhuti Rana, PhD says...
The information mentioned in the above article regarding the role of SF722 for combating yeast infections is medically supported and relevant. Sf722 is mainly composed of undecylenic acid, which has wide applications is treating skin irritations, itches, or burns.
In 2018, Ebersold et al reported that though Sf722 has limited solubility, it is an important ingredient to be explored and utilized for anti-Candida action (1). They prepared a hexosomal emulsion of undecyclenic acid and studies the structure by X ray crystallography. The hexosome concentrations used by them were able to inhibit filamentation and growth of Candida and remained non toxic to human cells.
It is quite evident now that Candida biofilm and hyphal formations play important role in imparting virulence to the pathogen. A study conducted by Chinese Academy of Medical Sciences & Peking Union Medical College, China, People's Hospital, China, and Geoorgetown University Medical Center, Washington DC, USA found that concentration of undecylenic acid (3 mM and above) was effective in inhibiting the growth of Candidal biofilms. This compound was also able to reduce the expressions of fungal lipases, proteases, and phospholipases to effectively wear out the biofilm (2).
Another study found that making composites of poly(methyl-methacrylate) or PMMA and undecyclenic acid helps to exert a fungicidal role against the sessile as well as free floating Candida and can be used to modify dental materials. This would help in treating Candida associated denture stomatitis or oral candidiosis (3, 4). Moreover, it has also been applied to treat a number of other fungal infections like tinea paedis, tinea cruris, tinea capitis, etc. (5).
These, along with other studies mentioned in Dr. Paudel's commentary help in reliably believing the role of this anti fungal compound.
Mionić Ebersold M, Petrović M, Fong WK, Bonvin D, Hofmann H, Milošević I. Hexosomes with Undecylenic Acid Efficient against Candida albicans. Nanomaterials (Basel). 2018;8(2):91. Published 2018 Feb 7. doi:10.3390/nano8020091 

Shi D, Zhao Y, Yan H, Fu H, Shen Y, Lu G, Mei H, Qiu Y, Li D, Liu W. Antifungal effects of undecylenic acid on the biofilm formation of Candida albicans. Int J Clin Pharmacol Ther. 2016 May;54(5):343-53. doi: 10.5414/CP202460. PMID: 26902505. 

Al-Dwairi ZN, Al-Quran FA, Al-Omari OY. The effect of antifungal agents on surface properties of poly(methyl methacrylate) and its relation to adherence of Candida albicans. J Prosthodont Res. 2012 Oct;56(4):272-80. doi: 10.1016/j.jpor.2012.02.006. Epub 2012 Jul 28. PMID:


Petrović M, Bonvin D, Hofmann H, Mionić Ebersold M. Fungicidal PMMA-Undecylenic Acid Composites. Int J Mol Sci. 2018 Jan 8;19(1):184. doi: 10.3390/ijms19010184. PMID: 29316713; PMCID: PMC5796133. 

J-GMC-N | Volume 10 | Issue 01 | January-June 2017.



Medical Review by Dr. Atmika Paudel, PhD

I am not endorsing SF722 for yeast, however, I would like to write something about the active ingredient- undecylenic acid. Undecylenic acid, as mentioned in the article above, has antifungal activities. It is shown to inhibit the biofilm formation and transition from yeast to hyphal form in Candida albicans.(1)

The paper was published in The International Journal of Clinical Pharmacology and Therapeutics in 2016. The paper found that undecylenic acid inhibited C. albicans biofilm formation effectively above a concentration of 3 mM, and transition from yeast to hyphal form above a concentration of 4 mM.  The paper also checked Candida cells under scanning electron microscope after treatment with undecylenic acid and found that the surface of the treated cells were crumpled, and cells display an atrophic appearance.

According to another report, undecylenic acid inhibited the growth of Candida and showed no toxicity to human cells in vitro.(2)

A pilot study performed in people with nail disease who were given topical treatment of undecylenic acid showed improvement in the first three months.(3)

Undecylenic acid topical application is given generally recognized as safe (GRAS) status by Food and Drug Administration (FDA) given that the formulation contains 10-25% of a total undecylenate concentration.(4)
1. Dongmei Shi, Yaxin Zhao, Hongxia Yan, Hongjun Fu, Yongnian Shen, Guixia Lu, Huan Mei, Ying Qiu, Dongmei Li, and Weida Liu.Antifungal effects of undecylenic acid on the biofilm formation of Candida albicans. 2016; 54: 343-353. doi: 10.5414/CP202460. h
2. Mionić Ebersold, M.; Petrović, M.; Fong, W.-K.; Bonvin, D.; Hofmann, H.; Milošević, I. Hexosomes with Undecylenic Acid Efficient against Candida albicans. Nanomaterials 2018, 8, 91. 
3. A new concept in the topical treatment of onychomycosis with cyanoacrylate, undecylenic acid, and hydroquinone. Foot Ankle Spec. 2008 Apr;1(2):93-6. doi: 10.1177/1938640008315350.
4. https://www.accessdata.fda.gov/scripts/cdrh/cfdocs/cfcfr/cfrsearch.cfm?cfrpart=333&showfr=1
Get SF722 or Undecyn for Yeast Infections Here.
Back to Herbal Yeast Infection Remedies
Any questions or concerns about Sf722 for yeast infections or Undecyclenic acid, please feel free to contact us or talk to your doctor.

Article References

1. Shapiro AL, Rothman S. Undecylenic acid in the treatment of dermatomycoses. Arch Dermatol Syphilol 1945;52:166-171.
2. Peck SM, Rosenfeld H. The effects of hydrogen ion concentration, fatty acids and vitamin C on the growth of fungi. J Invest Dermatol 1938;1:237-265.
3. Chretien JH, Esswein JG, Sharpe LM, et al. Efficacy of undecylenic acid-zinc undecylenate powder in culture positive tinea pedis. Int J Dermatol 1980;19:51-54.
4. Barrie SA. Comprehensive Digestive Stool Analysis; In: Pizzorno JE, Murray MT, eds. A Textbook of Natural Medicine. Seattle: JBC Press, 1986: II: CDSA-1-4.
5. Prince HN. Effect of pH on the antifungal activity of undecylenic acid and its calcium salt. J Bacteriol 1959;78:788-791.
6.Bourne N, Ireland J, Stanberry LR, Bernstein DI. Effect of undecylenic acid as a topical microbicide against genital herpes infection in mice and guinea pigs. Antiviral Res 1999;40:139-144.
7.Shafran SD, Sacks SL, Aoki FY, et al. Topical undecylenic acid for herpes simplex labialis: a multicenter, placebo-controlled trial. J Infect Dis 1997;176:78-83
Home   Privacy Policy   Copyright Policy   Disclosure Policy   Doctors   Store
Copyright © 2003 - 2023. All Rights Reserved under USC Title 17.Do not copy
content from the pages of this website without our expressed written consent.
To do so is Plagiarism, Not Fair Use, is Illegal, and a violation of the
The Digital Millennium Copyright Act of 1998.