Profase Probiotic, The Best Probiotic for Yeast Infections
Profase is the best yeast killing probiotic you will ever find.
Just like Biofase, I developed Profase because I saw a need for a true yeast killing probiotic. One that was designed with bacteria which have been actually proven to kill yeast and fungi, not just aid in digestion and intestinal health. I also wanted the formula to include good bacteria that kill bad bacteria because half of the stool test results I see show no yeast, but bad bacterial over growth.
 
As hard as yeast and bad bacteria are to get under control, I wanted to include bacteria which have been proven to stimulate immune function so the infected persons immune system could help in the fight.

The probiotic bacteria also had to be those which are found in the intestine or that we are exposed to when we eat, like soil based bacteria. Soil based bacteria have been consumed by humans since time began when we ate plants. They are transient, meaning they do not colonize the intestine, but do a job while they pass through and some of these species are definitely yeast killers. In the soil, they kill fungi and without them, the world would be an overgrown fungal paradise.
The Bacteria in Profase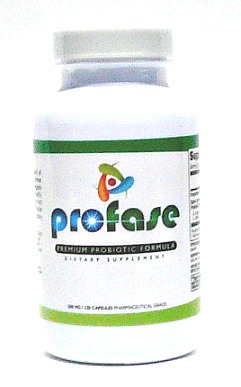 Lactobacillus plantarum is a rod-shaped, gram-positive lactic acid bacterium found in the mouth and intestines of humans and other animals. It ferments sugars turning them into hydrogen peroxides and lactic acid, 1, 2; these chemicals help create the right ph in the intestine for good bacterial growth, which subsequently inhibits bad pathogens from surving.

It also secrets antimicrobial compounds which keep pathogenic bacteria from forming colonies. 3. L plantarum also has a mannose-specific adhesion, which allows it to attach to the intestinal wall and compete with pathogenic bacteria for food. 3, 4

L plantarum has been found to suppress intestinal inflammation and to help maintain the tight epithilial cell junctions, which helps prevent leaky gut syndrome. 5,6. This function has also been helpful in the treatment of Colitis and prevents bile salts from entering the blood stream, causing the insane itching many people with yeast or bad bacterial over growth sometimes suffer from.

L plantarum has been found to be helpful in the treatment of h pylori 7; a pathogenic bacteria that leads many people to believe they have a yeast problem.

L plantarum has been found to stimulate IgA and IgG antibodies as well as anti-inflammatory cytokines.8 IgA is the antibody that defends the mucous linings of the body. Many people with yeast problems are deficient in IgA.

L plantarum is very acid and bile salt tolerant which allows it to get into the intestinal tract alive.
Most importantly, a study done with L plantarum  in 2010 resulted in complete growth inhibition of candida albicans invitro.9

Lactobacillus Casei is a mesophilic bacterium that is a gram positive, rod shaped, nonsporing, nonmotile, anaerobic, and does not contain any cytochromes. It is found in the human intestine, mouth, and reproductive tracts. It produces lactic acid, which kills harmful bacteria and helps boost production of good bacteria and balance ph levels.1

L casei helps regulate the immune system in the intestinal tract by stimulating lymphoid tissue along the intestinal wall.2 This process strengthens the immune response against harmful pathogens in the intestinal tract. Just like L plantarum, it also competes for nutrients at the site of adhesion with foreign pathogens further reducing their numbers.

It is also capable of producing hydrogen peroxides, acetic, propionic, bacteriocins, antimicrobial peptides and amphiphilic molecules to get rid of bad microbes in the body.3

In a study performed in 1997, L casei was found to be more effective than Lactobacillus acidophilus and Lactobacillus reuteri against candida albicans in the intestines of mice.4
This ability, along with its immune stimulating benefits, is why I added this bacteria to ProFase.

Bifidobacteriam Longum is a gram-positive, anaerobic, and branched rod-shaped bacterium that inhibits the growth of bad bacteria and is one of the first bacteria to colonize infants via breast milk. It can also be found in the female vaginal tract where it helps prevent bacterial vaginosis and yeast infections. It has been found to prevent and relieve diarrhea, reduce cholesterol, inhibit the growth of bad bacteria and boost immune function.1

It is a lactic acid producing bacteria that helps balance the ph in the intestine thereby creating a habitat that is not suitable for bad bacteria and other harmful pathogens.

Other studies have confirmed its ability to relieve antibiotic associated diarrhea, help reduce cholestrol levels, stimulate the immune system, and help prevent colon cancer.2 It also binds bile salts 3, which helps control skin itching.

Bifidobacteriam Longum has been found to help alleviate constipation of those who are on calorie restricted diets.4 This is a common problem for people with intestinal yeast.

Bifidobacteriam Breve is a rod shaped, anaerobic and non-motile bacterium that is one of the major species of bacteria to be found in infants. It also inhabits the vaginal tract where it prevents the over growth of candida yeast.

A published study in 2005 found it helped relive the symptoms of IBS, abdominal pain, bloating, flatulence and rumbling sounds by 42%. 1

Another study in 2010 was performed on cancer patients receiving chemotherapy. B breve inhanced the intestinal immune system which resulted in having to administer less antibiotics to combat intestinal infections.2

In 2010 a study was done on mice infected with MSRA, a highly antibiotic resistant bacterial infection. Bifidobacteriam Breve saved most of the mice from death from the infection and when combined with one antibiotic injection on day seven, it helped save them all. 3

Although not related to bad bacteria, but defintely related to recurring vaginal yeast infections; another study found that both B breve and L casei when taken together, helped reduce levels of BPA, which is a hormone disruptor found in many plastic water bottles. 4

In 2012 a study was done on 42 otherwise considered healthy people that suffered from oral candida (thrush). Lactobacillus casei and Bifidobacterium breve were used together. At the end of the 30 day test, it was concluded that the probiotic bacteria significantly reduced the presence of candida albicans and non-albicans species, and a significant increase in anti-candida IgA antibodies were noted.5 

Another 2012 study found that B breve and L casei help reduce the effects of intestinal inflammation caused by candida albicans.6

Bifidobacterium animalis lactis is a gram-positive, anaerobic, rod-shaped bacterium found in the large intestines of humans and most mammals.

It has been found to increase IgA levels in infants whether they are breast fed babies or not, born naturally or by cesarean. This includes IgA antibodies to polio and rotovirus. This would make this probiotic extremely useful for non-breast fed babies immune system health. 1

Studies have shown that B animalis produces a 10-fold increase in immune function when it comes to combating the Salmonella typhimurium bacterium. It inhibited the infections spread to the spleen and liver, it boosted lymphocyte and phagocyte activity and stimulated intestinal antibodies to the bacterium. 2

Although I am not pro flu vaccine, studies have shown that when b animalis and l casei are administered with the flu vaccine, IgG antibodies to the flu are significantly increased. Significant increases in IgA antibodies to the flu were also detected in the mouth. 3

There really isn't any doubt in my mind that b animalis is an excellent immune system stimulator and another study in 2001 proves that point again. In this study 30 volunteers between the ages of 63 and 84 participated over 9 weeks. It was noted that an increase in CD4 cells, CD25 cells, T lymphocytes and natural killer cells all increased. Phagocytic capacity and the tumoricidal activity of natural killer cells were also elevated. 4. Just so you know, a natural killer cell can kill a candida yeast cell in 6/100's of a second.

The best study of all is published over on the American Society for Microbiology website and Pubmed.

The study was done using mice infected with candida albicans. Lactobacillus acidophilus, Lactobacillus reuteri, Lactobacillus casei, and Bifidobacterium animalis were used to see if there was any effect on the candida. All four probiotics helped reduce levels of the yeast, but L casei and especially B animalis worked the best. B animalis alone reduced its incidence and severity while also increasing antibody and cell-mediated responses to candida albicans.5

Bacillus subtilis is a benign, ubiquitous(meaning everywhere) bacterium commonly recovered from water, soil, air, and decomposing plant residue.(Claus and Berkeley, 1986) It is gram positive, rod shaped, spore-forming  bacteria that is able to form a tough protective shell to survive extreme environmental conditions. Up until a study done in 2009, Bacillus subtilis was always thought to be a soil based bacteria only, but the study determined that this bacterium is definitely part of the bacterial environment of the human gut.1
However, it does not appear to have any specialized attachment mechanisms typically found in organisms capable of colonizing humans. (Edberg, 1991) Therefore, it is a transient inhabitant of the human gut and does not set up permanent colonies but does provide benefits as it passes through. (Edberg, 1991). One of those very important benefits is, it is a fungi killer or I would not have added it to Profase.

Bacillus subtilis has been in use since the late 1940's as an alternative medicine because it stimulates the immune system so well. It activates and increases IgG, IgM, and IgA antibodies.2 It also increases leukocytes and cytokines that target tumor cells.3 It was used to treat gut and urinary tract diseases such as Rotavirus and Shigella before antibiotics came into wide spread use. It was pretty much abandoned because antibiotics are cheaper, despite far less toxicity to human gut flora.4
A study in 2007 was done on piglets that were fed soybean meal, one groups meal was fermented with Bacillus subtilis. At the end of the study it was determined that the fermented soybean meal improved the morphology of the intestine as well as the activities of digestive enzymes.5
This bacterium produces antifungal compounds that are known to be effective against Monilinia fructicola (McKeen et al., 1986), Aspergillus flavus and A. parasiticus (Kimura and Hirano, 1988), and Rhizoctonia (Loeffler et al., 1986).

Mainly, bacillus subtilis is a proven fungicide used on vegetables, soybeans, peanuts, cotton, flowers and ornamental seeds.6

Although I cannot post pictures, I have seen what it does to candida albicans in a petry dish. It is a world class candida killer and a superb immune system stimulator.

Isolmalto-Olgosaccharide is a short chain carbohydrate that is digestion resistant much like resistant starch, it feeds your good bacteria. Profase contains a very small amount of Isolmalto-Olgosaccharide, a prebiotic, to get the bacteria to flow into the capsule at the time of manufacture and does not feed pathogenic bacteria.
Isolmalto-Olgosaccharide is not to be confused with Fructo-oligosaccharide (FOS). FOS is fructose based and it does feed your good bacteria as well but it also feeds the pathogenic bacteria Klebsiella, E. coli and many Clostridium species.1
You probably noticed that Profase does not contain Lactobacillus acidophilus. The reason for that is, as far as combating yeast infections, it is not one of the best. It can also cause health problems if you have to much, such as cytolitic vaginosis, a condition with many of the same symptoms as a vaginal yeast infection. It can also cause your intestines to become to acidic which can lead to neurotoxicity and intestinal problems.

Profase does not contain FOS, egg, dairy, preservatives, salt, sucrose, soy, wheat, yeast, nuts, corn, gluten, casein, potato, rice or any artificial colors or flavors. One capsule yields 30 billion bacteria and it is over formulated to extend shelf life, so you are actually getting close to 36 billion bacteria per capsule. It comes in either 60 capsules or 120 capsules.
Please refrigerate after opening. Profase is good for 2 years or more after the manufacture date if refrigerated.

Profase could cause a cleansing reaction in people that have severe over growths of yeast or bad bacteria in their intestines, which makes them feel sick or nauseated. This initial cleansing reaction usually goes away in a few days to a week. 

If you have a systemic candida yeast problem or low immune function, Profase works extremely well with Biofase and Microfase. I would recommend taking two to three Biofase with one or two capsules of Profase one hour or more before breakfast and 30 minutes before bedtime. Take two capsules Microfase 30 minutes before breakfast and at bedtime, or follow this simple system.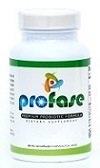 Customer Rating
Manufactured in The USA
Profase is also available on Amazon

Profase Testimonials
The Biofase/Profase combination is the best, most effective remedy for Candida I have yet discovered.

Great work, Dan.

Dr. Dean W. Manders

Dan,
I bought Biofase and Profase (B/P) mid June/15. Skin candida was suppressed by previous treatments but was still there. From the first day I knew B/P was different. On day 2 there was a giant flare up on the skin - candida in it's last dying throes. At eight days, the skin is normal almost "everywhere." Chronic loose BM's are becoming solid. Skin in ears, mouth and scalp is almost back to normal. Absolutely looking forward to a return to excellent health with B/P. Sending some to my friends, as well.
JR, CA.

Dan,
After 1.5 years of incessant and painful yeast infections, your yeast diet and combination intestinal yeast program have saved me! I would like to continue my program, so I am re-ordering my Biofase and Profase.
Thank you again for making your information accessible to anyone of any financial background!
Jennifer

Dear Dan,

I have been doing the cleanse you recommended and taking the Profase, and the spots near my mouth have decreased significantly, so many thanks.
Mabel
Hi Dan,
I was using 8-9 CP-1 at a time before Profase came out, and I wondered if the Profase would be as strong as that. I found out the Profase capsules are stronger for sure since I am now only using 1 at a time. I've had to stop using them right now as I prepare for a sibo breath test. I'm on day three and missing them dearly. They seem to be helping a lot with the inflammation, and gas (build up). After being off of them for just a few days, I'm noticing that big time!
Jeanne

Hi Dan,
My dental hygienist diagnosed candida albicans, I went to my PCP who prescribed Nystatin which didn't help much because I hadn't researched enough on my own, and was still incorporating bad sugar and processed foods into my diet. When I got a stronger prescription of clortrimazole, I was already reading your website and appreciated your common sense approach and variety of sites to find info and the recommended probiotics, both outside your website and both Biofase and Profase. I think I probably have it in my intestines, I am following your recommended yeast killing protocol for that.
In two days, my brain fog improved, I had no allergy symptoms, no cough at night, more energy than in several years, and have always felt misdiagnosed for allergies. I was getting allergy shots for years to treat my chronic sinus infections and finally weaned off the shots 2 yrs ago. Up until my diagnosis with candida albicans, I thought my sinus troubles were back. Now I am not using Flonase, no more Benadryl at night and no more daily dose of Claritin since I began your treatment and follow the Candida Yeast Diet on your site.
Thank you for the common sense approach and the Major Epiphany I had when I read your site! I am doing good so far and am amazed at how quickly my system is bouncing back when I thought I was just feeling really old! Also depression...waiting for springtime to discuss with my doc about discontinuing anti-depressant. I will continue to eat healthier and stay on both Biofase and Profase.
Many, many thanks!

Lolly

Hi Dan,
I want to thank you for your product and for your time/information you gave me over the phone. I love the Biofase and Profase! Since I've been taking both I have had reduced symptoms. I love these products! I will forever take these for maintenance. I have tried many other products out there and I have found Profase and Biofase to be superior. Please don't ever stop making them!!
Thank you again,
Cindy
Hi Dan,
Truly, I have never felt like this before!! U are really God sent because as you may know how yeast infection is, I had given all my burden to God, and he is working through you Dan. I'm now waiting for the second order of Biofase and Profase but the remaining symptoms are just minor and I can now realize the best food to re-introduce in my diet by testing and feel it immediately. I really appreciate your efforts.
Florence
Hi Dan,
I just wanted to let you know that Profase worked for me possibly the best of all the probiotics though I haven't been as strict with my diet as I should be. I'm just about to make another order.
Wishing you a happy and healthy new year!
Best regards,
Christine
Hi Dan

First to let you know that your protocol truly works and believe me I have tried them all with little or no success at all. I have been suffering with systemic yeasts for around 5 years and it was all due to high amounts of antibiotics in childhood. Then 3 years ago some medical problems occurred like horrible acne, athletic foot, panic attacks, extreme tiredness during the day and the most annoying of them all some sort of depression without any severe cause. The doctors could not explain what was wrong. 2 years ago i began to research what could be the cause to these medical problems, and I discovered that i had all the symptoms for system candidiasis. Then my long journey to health started.

For the next 2 and a half years I tried all sorts of diets and some mild herbs but nothing seemed to help me get better. 6 months ago i randomly found your website and start to read a little about it. Everything on your website was amazing and i said to myself, why not give it a try, anyway if i tried all sorts of things why should i quit now.

Your site was probably the best thing that has happened to me in 2 years with my battle with candida. I started just like you wrote on the website: 2 months of Ultimate cleansing continued with Zeolite pure powder. Now i must admit that ultimate cleansing was not such a big thing and i could not see any big difference. It was only when i added your BIOFASE AND PROFASE things started to improve big time.

I must say that this combination is by far the best thing for yeast infection that i have come across in all these years. All websites just sell herbs and medication but without any knowledge about biofilms. i will continue taking biofase and profase because i must say i had severe case of candida and because of you I am just so close to getting rid of it for good. I must say that your pick of herbs is also the best and they work magic with yeasts. Keep up the good work Dan and may the Biofase and Profase be with you :)

With regards,
Anton
Privacy Policy  Copyright Policy  Disclosure Policy

Disclaimer: These statements have not been evaluated by the Food and Drug Administration. The products and information contained herein are not intended to diagnose, treat, cure, or prevent any diseases or medical problems. It is not intended to replace your doctor's recommendations.

Copyright © 2003 - 2018. All Rights Reserved under USC Title 17.
Do not copy content from the page or this website without my expressed written consent. To do so is Plagiarism, Not Fair Use, is illegal, and a violation of the The Digital Millennium Copyright Act of 1998. FTC Disclaimer: I do receive financial compensation for some of the products I recommend and personally sell.