Is Wheatgrass Ok on The Candida Diet?
Posted 11/13/2021 by Dan Jackowiak Nc, HHP
Wheatgrass (Triticum aestivum) is a nutrient-rich food. It is a super healthy food with amazing benefits. It is usually available as fresh juice, but it also comes in powdered form. The fresh juice of wheatgrass is a living food. Wheatgrass is sold as a dietary supplement in tablets, capsules, powder, and liquid forms. It is also available as a spray, cream, gel, massage lotion, and herbal fluid supplement.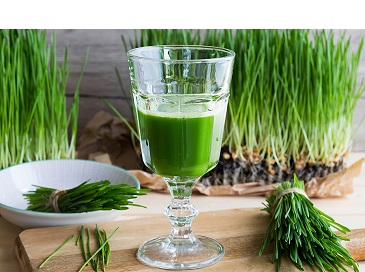 Wheatgrass juice contains a high amount of vitamin C, which boosts the immune system. It contains chlorophyll, vitamins, minerals, amino acids, and healthy enzymes for the body. Wheatgrass may be cultivated either indoors or outdoors. Some people grow it in their homes for its health benefits.
The origin of wheatgrass is linked with Persia and India. It was traditionally used there in festivals and rituals. In the western world, the consumption of wheatgrass began in the early nineteenth century. The consumption of wheatgrass as a raw food diet became very popular in mid-1900's. It was thought that wheatgrass cleans the body of toxins and provides proper nutrition.(1)
Nutrient Profile of Wheatgrass
One ounce of wheatgrass (28.34 grams) contains 7.9 calories. (2) Wheatgrass is used as low-calorie food and a good source of fibers. Its consumption provides a good amount of vitamins and minerals necessary to support the body's daily functioning.
Carbohydrates
One ounce of wheatgrass (28.34 grams) contains 1.8 grams of carbohydrates, including 1.4 grams of sugar. (2) Wheatgrass has a low glycemic index and maintains blood glucose levels in people with type 2 diabetes.
Fibers
One ounce of wheatgrass (28.34 grams) contains 0.2 grams of dietary fiber. (2) Dietary fiber can help promote regular bowel movements, prevents constipation, and lowers cholesterol levels.
Protein
One ounce of wheatgrass (28.34 grams) contains 0.2 grams of protein. (2) This is a negligible amount of protein.
Fats
One ounce of wheatgrass (28.34 grams) contains zero grams of fat. (2) It promotes weight loss. Consuming wheatgrass juice can improve blood cholesterol and triglyceride levels, which leads to a lower risk of various health problems.
Vitamins & Minerals
Wheatgrass is a rich source of trace minerals and vitamins. It is highly nutritious, packed with vitamins, making it an excellent choice for improving your health. It has therapeutic effects due to the presence of nutrients. One ounce of wheatgrass (28.34 grams) contains 1.4 milligrams of vitamin C. (2) Vitamin C is a potent antioxidant necessary for improving skin health and boosting immunity. It also contains vitamin A, vitamin E, vitamin K, and B complex vitamins.
Wheatgrass contains iron, magnesium, calcium, potassium, and other trace minerals. One ounce of wheatgrass (28.34 grams) contains 0.14 milligrams of iron, 1.7 milligrams of magnesium, 2.27 milligrams of calcium, and 15.6 milligrams of potassium. (2) These minerals provide several health benefits.
Antioxidants in Wheatgrass
Free radicals are unstable molecules that are produced during metabolism. The accumulation of free radicals interferes with the normal functioning of the body. Elimination of these free radicals is crucial to protect your cells from damage. It can lead to oxidative stress, which can cause various health complications. Antioxidants are the potent molecules that fight with these free radicals and protect your cells from damage.
Plant-based foods are the common sources of antioxidants. Wheatgrass is an excellent source of antioxidants, including glutathione, vitamin C, and vitamin E. These antioxidants help reduce oxidative stress and protect your body. They possess anti-inflammatory activity and reduce chronic inflammation. As a result, these antioxidants reduce the risk of cancer, arthritis, cardiovascular, and neurogenerative diseases. (3) (4)
Health Benefits of Wheatgrass
Wheatgrass is super healthy as it is packed with antioxidants and other nutrients. Antioxidants in wheatgrass reduce the levels of bad cholesterol and triglycerides. The reduction in bad cholesterol levels and promoting a healthy cholesterol level is one of the promising benefits of wheatgrass. Thus, wheatgrass helps in lowering the risk of cardiovascular diseases and strokes. (5)
The structure of the chlorophyll molecule of wheatgrass is similar to hemoglobin, a protein that carries oxygen around the body. It improves the quality of red blood cells, increases blood cell count, and aids in lowering high blood pressure. Moreover, intake of wheatgrass improves blood circulation. (6)
The nutrients-rich wheatgrass helps in eliminating stored toxins and other impurities from your body. In this way, wheatgrass detoxifies your body and improves overall liver function. Drinking wheatgrass juice purifies your blood and improves your health. (7)
Wheatgrass is loaded with antioxidants that have anti-cancer and anti-inflammatory activity. These antioxidants in wheatgrass can kill cancer cells, thus help in cancer prevention. Wheatgrass juice, being an antioxidant-rich drink, plays a significant role in cancer treatment. It helps in minimizing the adverse effects of chemotherapy and increases its effectiveness. Various research indicates its effective role in the treatment of mouth cancer, colon cancer, and leukemia. (6) (8) (9)
Wheatgrass is high in fiber content; thus, it improves gut health and aids in digestion. It has enzymes that break down food and promote digestion. Wheatgrass juice removes unwanted molecules or toxins from your gastrointestinal tract, thus reduces the risk of gas, bloating, and other digestive problems. Wheatgrass, high in fiber content, relieves irritable bowel syndrome and constipation. (3)
If you are trying to lose weight, wheatgrass juice could be an effective addition to your diet plan. Wheatgrass is very low in calories with almost zero fat content. It boosts your metabolism and aids in weight management. Wheatgrass juice is nutrient-rich juice that helps in reducing cravings and promotes satiety. (10)
Wheatgrass shows a positive effect on blood glucose levels. It has a low glycemic index. It has specific enzymes that are responsible for reducing elevated blood glucose levels to normal. Wheatgrass increases insulin levels in the blood and lowers blood glucose levels. Thus, it helps in the regulation of blood glucose in people with type 2 diabetes. It prevents glucose spikes and protects your body from diabetes-related complications. (11)
Wheatgrass, an excellent source of antioxidants, boosts immunity. It has an anti-microbial activity which means it can fight infections, especially bacterial infections. It is also effective in preventing and treating antibiotic-resistant infections. (12)
Wheatgrass prevents memory loss, improves memory functions, and alleviates anxiety. Consumption of wheatgrass juice is effective in reducing the symptoms of Alzheimer's disease. It is a good choice for improving cognitive functions. (13)
Negative Health Effects of Wheatgrass
Although wheatgrass does not contain gluten, which is only found in the seeds, certain health risks are also associated with excessive intake of wheatgrass. Excessive consumption of wheatgrass can cause certain digestive tract complications like constipation, diarrhea, and stomach pain. Common side effects of using wheatgrass, especially in high doses, ranging from nausea and headaches to more serious allergic reactions like swelling of the throat and hives. Do not take wheatgrass if you are allergic to wheat. It can cause allergic reactions in your body, leading to certain health-related risks. You may have a different effect if there is a blood disorder, a coeliac illness, or gluten intolerance. (14)
Wheat Grass on The Candida Diet
The following nutritional information is provided by the USDA for 1 tbls of Wheatgrass.
Calories: 25
Fat: 0g
Sodium: 0mg
Carbs: 6g
Fiber: 4g
Sugar: 0g
Protein: 1g
Vitamin K: 86mcg
With only 6 grams of carbohydrates, a one tbls serving of wheat grass is more than acceptable on the Candida diet. There are 16 tbls in a cup which would raise the carb amount to 96 grams, which is to much at one time. A ¼ cup would be 24 grams of carbs and based on the health benefits of wheatgrass would be ok occasionally. However, a ¼ cup of wheatgrass juice is not going to fill you up so you would be better off consuming a serving of vegetables to promote fullness and prevent food cravings.
Back to Candida Diet Questions

Medical References
1. BC Campus. The History of Wheat Flour [Internet]. 2015. Available from: https://opentextbc.ca/ingredients/chapter/the-history-of-wheat-flour/
2. Nutrition facts for wheat grass, raw, recommended daily values and analysis. [Internet]. Available from: https://www.nutritionvalue.org/Organic_wheat_grass_by_NutriBlade%2C_LLC_555663_nutritional_value.html?size=1+ounce+%3D+28.3495+g
3. Bar-Sela G, Cohen M, Ben-Arye E, Epelbaum R. The Medical Use of Wheatgrass: Review of the Gap Between Basic and Clinical  Applications. Mini Rev Med Chem. 2015;15(12):1002–10.
4. Pham-Huy LA, He H, Pham-Huy C. Free radicals, antioxidants in disease and health. Int J Biomed Sci [Internet]. 2008 Jun;4(2):89–96. Available from: https://pubmed.ncbi.nlm.nih.gov/23675073
5. Kothari S, Jain AK, Mehta SC, Tonpay SD. Hypolipidemic effect of fresh Triticum aestivum (wheat) grass juice in  hypercholesterolemic rats. Acta Pol Pharm. 2011;68(2):291–4.
6. Gore RD, Palaskar SJ, Bartake AR. Wheatgrass: Green Blood can Help to Fight Cancer. J Clin Diagn Res [Internet]. 2017/06/01. 2017 Jun;11(6):ZC40–2. Available from: https://pubmed.ncbi.nlm.nih.gov/28764290
7. Yi B, Kasai H, Lee H-S, Kang Y, Park JY, Yang M. Inhibition by wheat sprout (Triticum aestivum) juice of bisphenol A-induced  oxidative stress in young women. Mutat Res. 2011 Sep;724(1–2):64–8.
8. Arora S, Tandon S. Mitochondrial pathway mediated apoptosis and cell cycle arrest triggered by aqueous extract of wheatgrass in colon cancer colo-205 cells. J Plant Biochem Biotechnol [Internet]. 2016;25(1):56–63. Available from: https://doi.org/10.1007/s13562-015-0309-7
9. Khan N, Ganeshpurkar A, Dubey N, Bansal D. Immunoprophylactic potential of wheat grass extract on benzene-induced leukemia: An in vivo study on murine model. Indian J Pharmacol [Internet]. 2015;47(4):394–7. Available from: https://pubmed.ncbi.nlm.nih.gov/26288471
10. Im J-Y, Ki H-H, Xin M, Kwon S-U, Kim YH, Kim D-K, et al. Anti-obesity effect of Triticum aestivum sprout extract in high-fat-diet-induced obese mice. Biosci Biotechnol Biochem [Internet]. 2015 Jul 3;79(7):1133–40. Available from: https://doi.org/10.1080/09168451.2015.1006567
11. Shakya G, Randhi PK, Pajaniradje S, Mohankumar K, Rajagopalan R. Hypoglycaemic role of wheatgrass and its effect on carbohydrate metabolic enzymes in  type II diabetic rats. Toxicol Ind Health. 2016 Jun;32(6):1026–32.
12. Rajpurohit L, Mehta N, Ankola A, Gadiyar A. Evaluation of the anti-microbial activity of various concentration of wheat grass (Triticum aestivum) extract against Gram-positive bacteria: An in vitro study. J Dent Res Rev. 2015;2(2):70.
13. Jang J-H, Kim C-Y, Lim SH, Yang CH, Song K-S, Han HS, et al. Neuroprotective effects of Triticum aestivum L. against beta-amyloid-induced cell  death and memory impairments. Phytother Res. 2010 Jan;24(1):76–84.
14. Pietzak M. Celiac disease, wheat allergy, and gluten sensitivity: when gluten free is not a  fad. JPEN J Parenter Enteral Nutr. 2012 Jan;36(1 Suppl):68S-75S.
Home   Privacy Policy   Copyright Policy   Disclosure Policy   Doctors   Store
Copyright © 2003 - 2023. All Rights Reserved under USC Title 17.Do not copy
content from the pages of this website without our expressed written consent.
To do so is Plagiarism, Not Fair Use, is Illegal, and a violation of the
The Digital Millennium Copyright Act of 1998.