About Dr Harmeet Kaur, PhD
Doctor of Pharmaceutical Science & Medicinal Chemistry

Dr. Harmeet Kaur, PhD received her Bachelors in Pharmacy from Guru Nanak Dev University in Amritsar, India in 2000. Guru Nanak Dev University is a state owned university with an "A" grade nationally. They specialize in Arts & Social Sciences, Nature and Life Sciences and Technologies.

Dr. Kaur received her Masters in Medicinal Chemistry from the National Institute of Pharmaceutical Education and Research in Mohali, India in 2002. The college is one of the first national level institutes to get recognition in the field of Pharmaceutical Sciences with an aim to get advanced aids and be globally recognized. The college has been declared an institute of national importance by the government.

Of particular interest to us, is Dr. Kaur's experience with plant compounds for treating bacterial and fungal infections as noted below.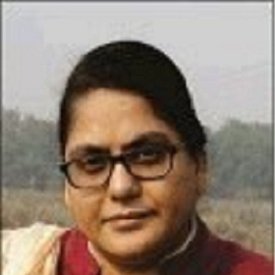 In 2008, Dr. Kaur published the results of a study on the effects of the plant Kigelia africana against Candida albicans, Staphylococcus aureus, Enterococcus faecalis, Streptococcus faecalis,  Escherichia coli and Pseudomonas aeruginosa.

In 2010, she published the results of another study on the antimicrobial effects of plant compounds known as Saponins against pathogenic bacteria and fungi.

In 2015 Dr. Kaur was awarded her Ph.D in Pharmaceutical Sciences from Maharshi Dayanad University in Rohtak, India. In addition to Pharmaceutical Sciences, the university offers a plethora of undergraduate, postgraduate and doctoral programs.

Dr. Kaur is presently a Senior Research Scientist at Maharshi Dayanand University in India.

During the last 5 years Dr. Kaur has performed numerous studies on targeted drug delivery against cancer cells. These tests include cancer cell enzymes, heat shock protein 90 (HSP90), multi-drug resistance (MDR) proteins, angiogenesis, apoptosis and cell membrane receptors.

She's done extensive experiments using a new series of morpholine based heterocyclic diazenyl chalcones against microbial infections that threaten human life. These pathogens include, S. typhi, E. coli, A. niger and C. albicans.

She has done many more studies on exploring effective methods to treat cancer, bacteria and fungal infections with various methods. She also has more than 10 years experience in teaching subjects like analytical chemistry, organic chemistry, medicinal chemistry, inorganic chemistry and anatomy, physiology and health education at the graduate level.

Because of Dr. Kaur's extensive experience with bacterial and fungal infections, including Candida albicans yeast specifically, we thought she would make an excellent addition to the Yeast Infection Advisor team.
If you would like to learn more about Dr. Kaur's work, you can review her published scientific studies at ResearchGate.
Home   Privacy Policy   Copyright Policy   Disclosure Policy   Doctors   Store
Copyright © 2003 - 2023. All Rights Reserved under USC Title 17.Do not copy
content from the pages of this website without our expressed written consent.
To do so is Plagiarism, Not Fair Use, is Illegal, and a violation of the
The Digital Millennium Copyright Act of 1998.